Hey Everyone! (Friends and Followers) :)
I've finally decided to break my longstanding avoidance of Twitter! lol: https://twitter.com/SoulsoftEA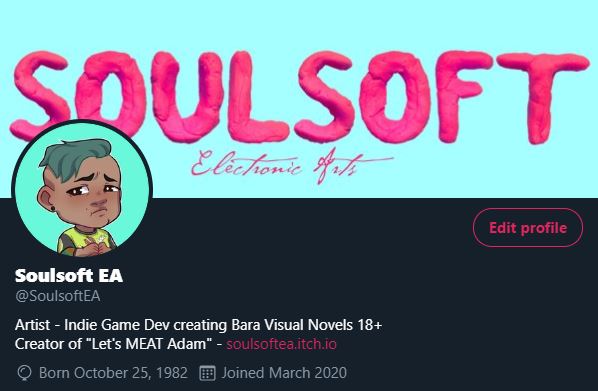 So come join and follow me there, and so I can follow you as well! I'll still update via Itch.io but going forward my Twitter will be the place to the get the latest on our upcoming secret game! (Yes! Something has been in development for awhile!)
There's no posts...yet, and going forward, here's what to expect:
I'm seriously really bad at social media-ing, so please dont be upset if I don't/can't reply to a DM or comment right away.
Right now, I'm not taking commissions, but if it interests me enough...i might consider it. So ask away! =)
Expect at least 1-2 posts a week once I get ramped up. What kind of content do you want to see?
My Twitter is not marked as Adult (for now)
I'm looking to connect with other Bara Illustrators and Artists! <3
Thank you to all our followers, I'm truly humbled and thankful.
-Jay of Soulsoft Electronic Arts