The Stellar Beacon is a zine that supports the sci-fi RPG Return to the Stars with new adventures and which also explores the gamer and geek culture more broadly.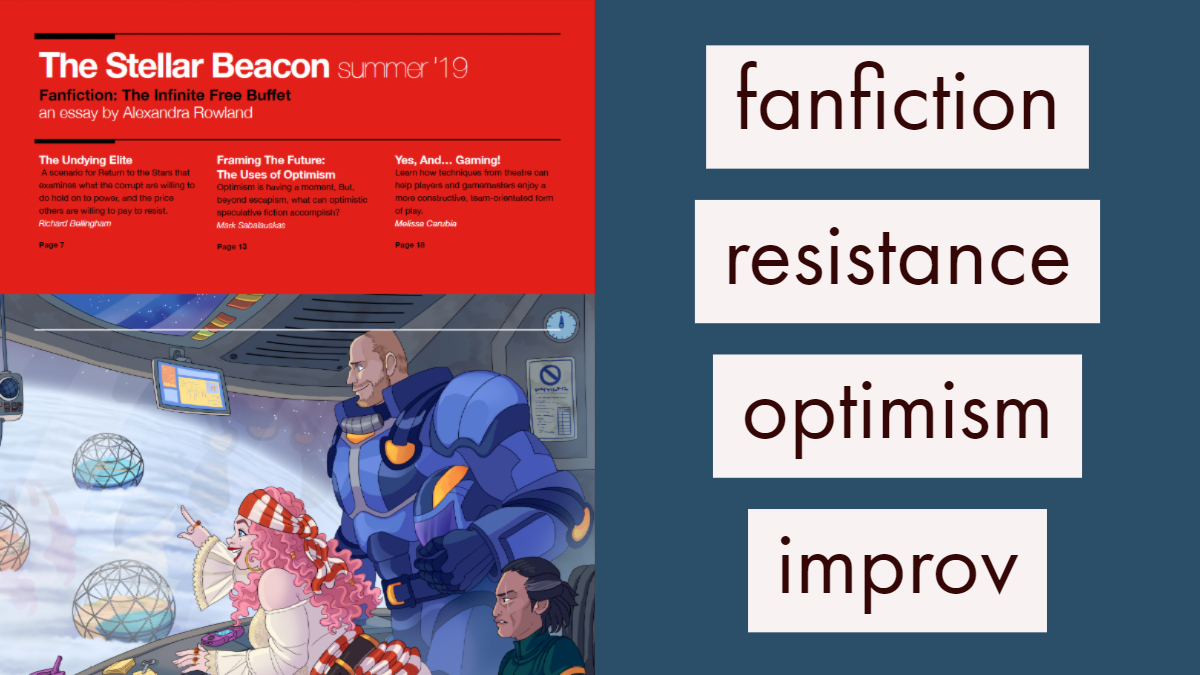 This issue includes:
Fanfiction: The Infinite Free Buffet
2019 Hugo nominee Alexandra Rowland celebrates fanfiction, explores its significance, and defends it against it against those who shallowly dismiss it.
The Undying Elite
A scenario for Return to the Stars that examines what the corrupt are willing to do hold on to power, and the price others are willing to pay to resist.
Richard Bellingham is the author of the RPG The Secret of Cats, and creative director of The Fate Horror Toolkit.

Yes, And… Gaming!
Learn how techniques from theatre can help players and gamemasters enjoy a more constructive, team-orientated form of roleplaying.
Melissa Carubia is a music director, composer, and actor making art and music in the Boston area.

Framing the Future: the uses of Optimism

Optimism is having a moment, But, beyond escapism, what can optimistic speculative fiction accomplish? Mark Sabalauskas, designer of Return to the Stars, delves into one of the game's core themes.

Pop Culture Parade

A collection of entertainment the themed sci-fi sandbox story prompts for Return to the Stars!
Grab the new issue of The Stellar Beacon with our 25% off launch sale!