We are officially LIVE & PUBLIC today! Thank you to everyone who's given us feedback and shares!
Drive·10 was designed with our "rules necessary" gaming philosophy at The ChaosGrenade. We pride ourselves on games that are accessible, affordable, easy to digest and allow you to get to playing right away. This has been an amazingly fun framework to play with -- we've used it for mutant wastelands, galaxies far away, pulp heroes, cyberpunks and the obligatory band of dungeon delvers.
We have some awesome games in the same family as D·10 that we would love to get out (the biggest right now being Fortune's Turn) and as I mentioned: all money earned from D·10 will go towards offsetting the cost of commissioned artwork for those projects. We're reluctant to go the route of Patreon or Kickstarter right now simply because all three of us (Matt Bryant, Austin White, and myself -- R.E. Davis) have full time lives away from our hobby.
So my goal here is to offer something awesome and immediate for those who help us out! Right now, paying $2 or more to this project gets you a fancy, laid-out version of the D·10 rules (with some expanded content). It also means access to upcoming Quick Sheets -- quick and dirty setting primers to use with D·10.
I'm already working on the first set --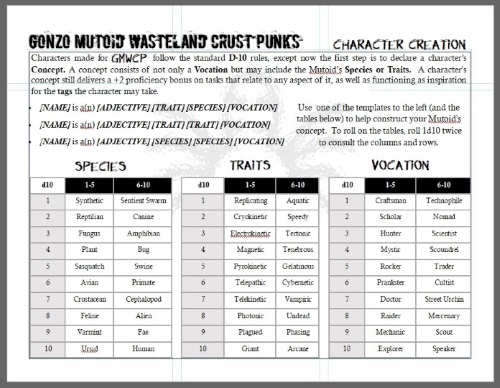 And remember the game text is released under Creative Commons Attribution-ShareAlike 4.0 so feel free to go nuts with your homebrews and hacks (and PLEASE share them on the community page here!).
And remember you can follow us here, on Twitter, MeWe, Facebook and of course our website.