Bail the Bounty Hunter
Apologies this topic is being created after the fact but I wasn't familiar with Itchio or the Community tab before. I'd like to talk to you all about Bail, the thought process behind it, how it was made, etc.

Story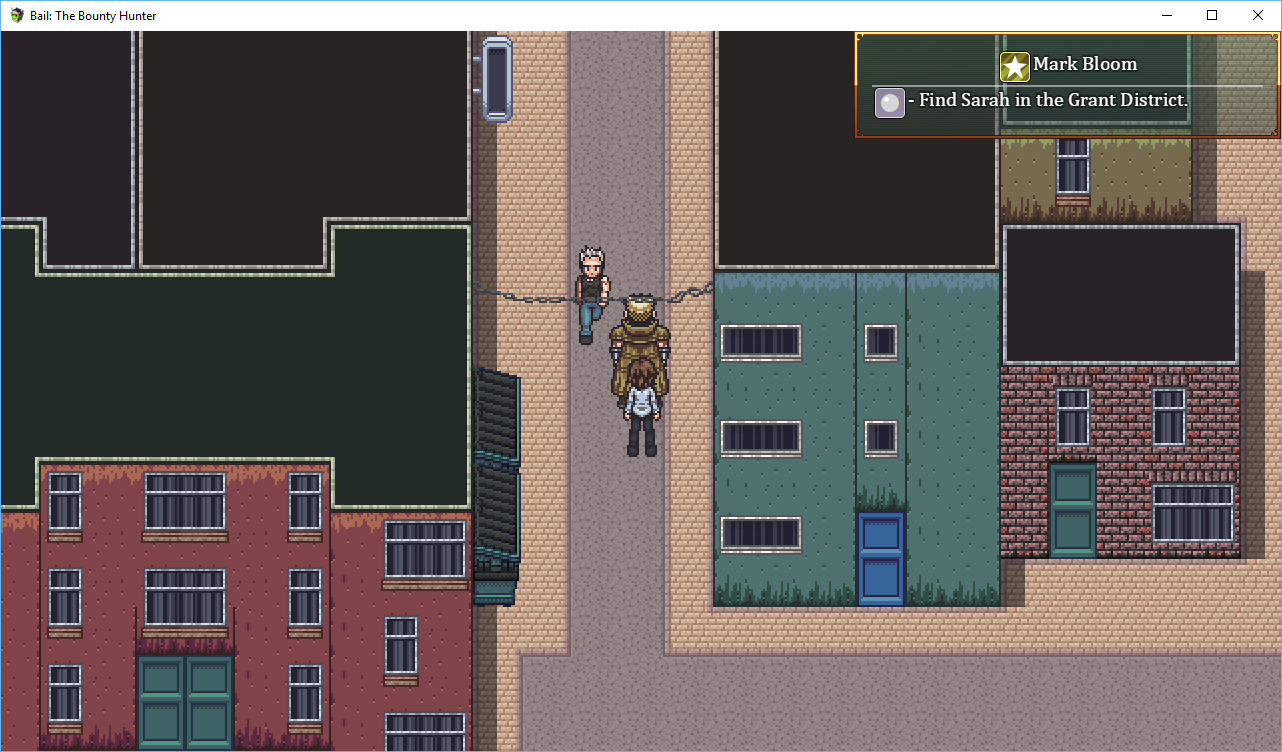 Bail the Bounty Hunter's set in a world where if you're accused of a crime and don't turn up for your trial, your next of kin has to face your sentence instead. This means you could end up going to prison for a crime your dad committed. You play as Bail, a bounty hunter whose main focus is making sure that doesn't happen. If someone's a no-show, Bail has 48 hours to bring them in and save their son / daughter / wife / husband / niece / nephew / brother / sister / you-get-the-idea.
Characters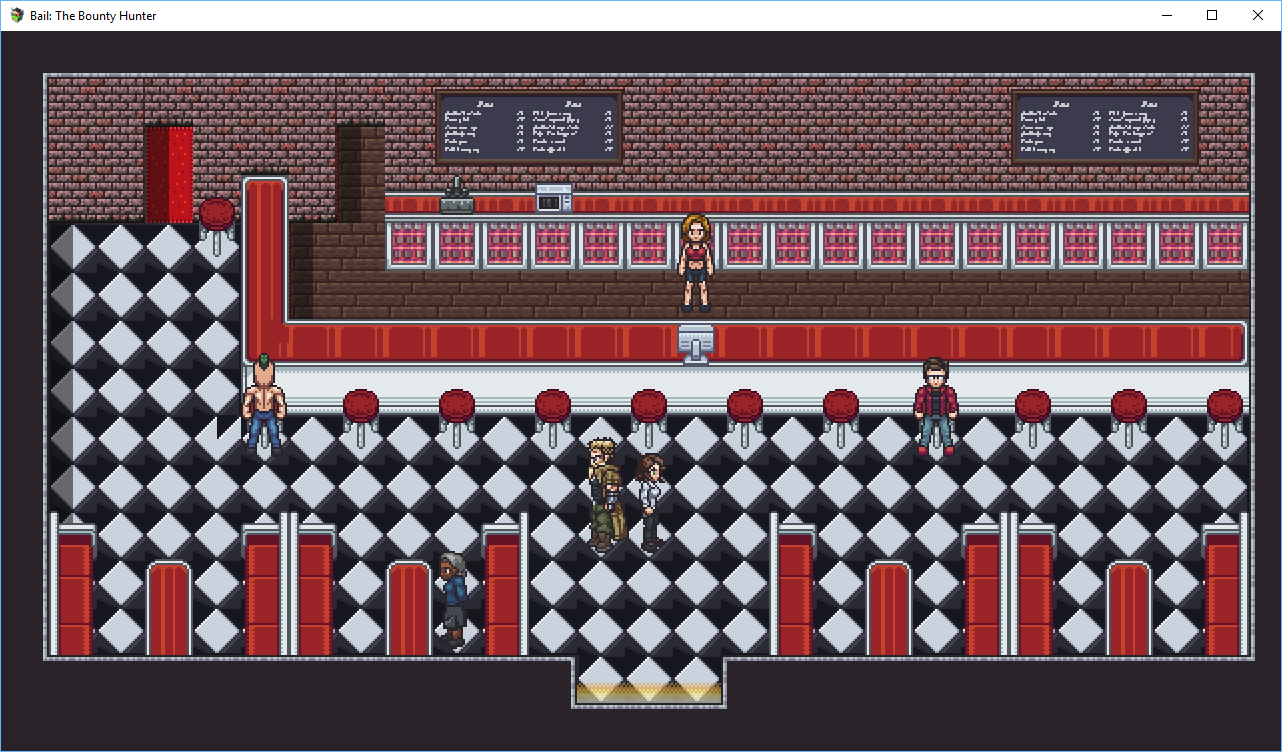 Bail
A no-nonsense bounty hunter who's getting on a bit in the years and isn't afraid to bend a few rules to get the job done. Bail's got a very direct approach and is more than happy when negotiuations break down and fists start flying.
Jennifer
She works for the Bounty Hunter Conduct Society (BHCS) and conducts annual reviews by observing bounty hunters out in the field. She's conducting Bail's annual assessment and will decide whether to renew his bounty hunting license or not. Being a representative from the BHCS, she's very by the books so expect her and Bail's personalities to clash!
Targeting the Contest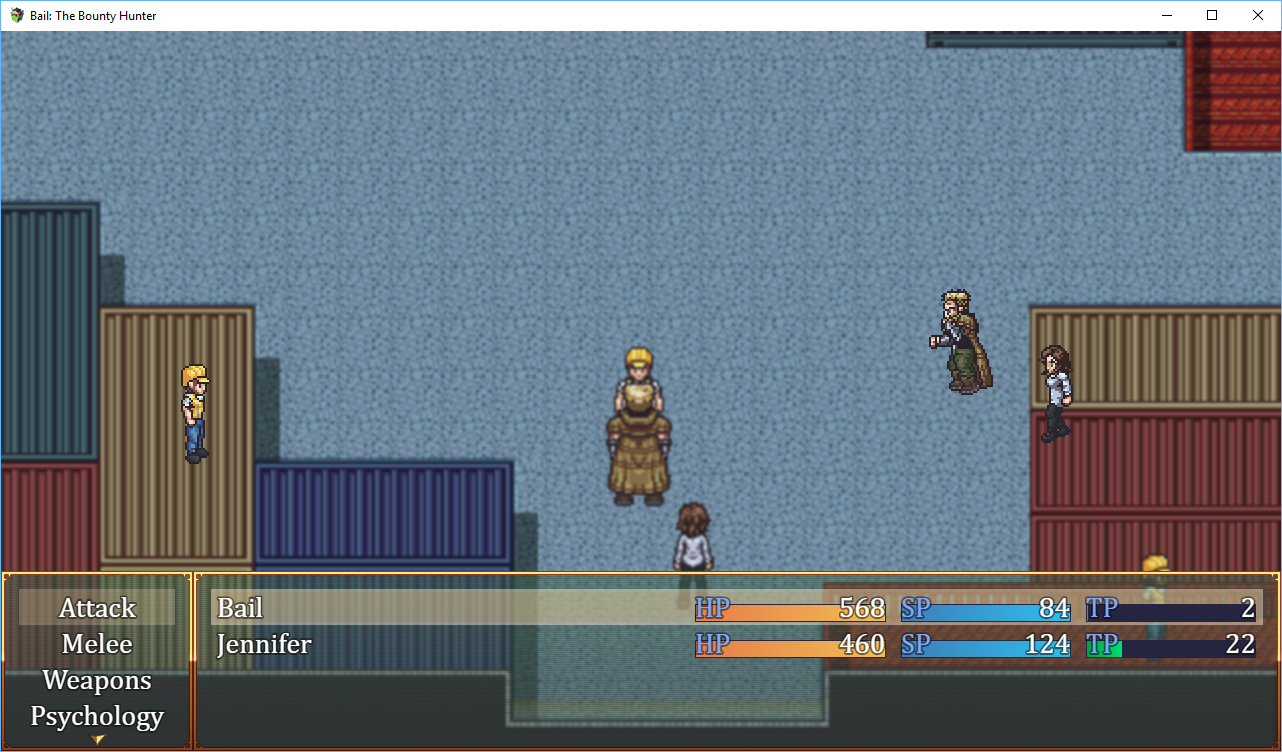 I think it's important to talk about how the contest and its rules affected the creative decisions for this project. Now, I know that could sound like a negative but I've actually found having a set and clear brief to be extremely helpful in defining the scope and content of the game.
In summary, the judges seemed to want:
A new title, with development starting after 29th October 2018
Something that could be expanded upon for a full game
A commercial game, so commercial rights for all assets
No 18+ content
I also had a few things to consider myself:
I wouldn't even classify myself as a novice coder so I needed a what-you-see-is-what-you-get engine
I'm a decent artist and I'm told I'm a good writer
While I know people in the indie comics circuit I could collab on comics with, I've been out of the RPG Maker circuit for years and all the names and faces have changed
I had my day job running alongside it
I'm a father of two
I got married on October 27th, literally two days before the contest started
Essentially, free time was going to be tight, budget was limited as some of the wedding costs were sat on my credit card, and I was on my own
That caused me to make the following decisions:
Adopting a shonen manga approach to storytelling where the story's segmented so it can be as short or as long as needed
Making my entry something of a pilot episode or introduction to the concepts, it can tell a one-shot self-contained story but also form part of a much larger title
A running time of approximately 30 minutes (although I can speedrun it in just over 13 minutes)
Using RPG Maker MV as I've been familiar with that engine for over 15 years, having started with RPG Maker 2003 in high school
Creating custom from scratch pixel art at 24x24 and then using a 2x Nearest Neighbour scale to meet RPG Maker MV's 48x48 grid
Using the M Drive 16-bit music pack paid DLC as I'm not a composer, needed something with commercial use rights, couldn't afford a custom soundtrack commission, but didn't want to use RTP. It seemed to fit the SNES / Mega Drive era graphics and cost around a tenner, ticking all the boxes
Using Yanfly and Galv's free commercial use plugins (seriously, those two are amazing)
Not going crazy on features and focusing on communicating a core gameplay structure
If I were to win any of the prize pools, I'd probably use the money to take my wife on honeymoon as we've not had one. I'd also be interested in continuing work on the game for a full commercial release regardless of whether I win or not. Making indie comics and indie games have been on my bucket list since I was 5 or 6 years old, I've published several comics but not a video game so I'm keen to achieve that lifelong goal!

I hope that's given you some insight into who I am, please feel free to download the game, give it a try, rate it, and let me know your feedback.