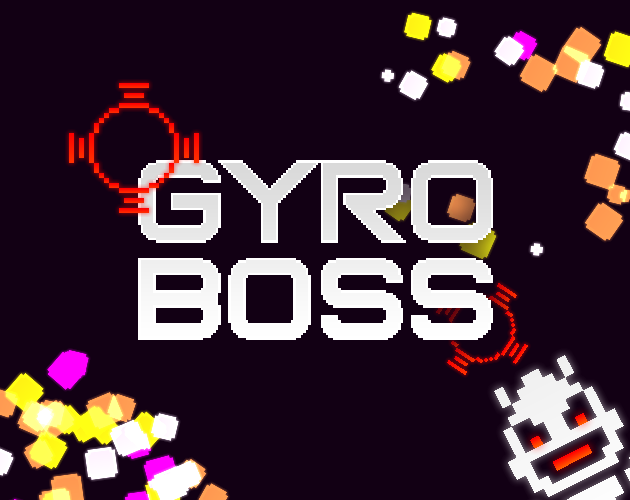 I should have posted here well before the game was 80% done *ahem* introducing: Gyro Boss DX!
The original Gyro Boss was a surprise hit for us on Android getting >175,000 downloads (and still going). We just wanted to create a fun little project with simple controls and BOOM it took off.
And now? now we've rewritten Gyro Boss from scratch with improved controls & weapons, improved graphics, and a multiplayer mode for PC & console.
What is Gyro Boss?
Your home planet is under siege from a band of intergalactic pirates led by the fiendish Gyro Boss! Unfortunately your technology is no match for this deadly beast and his crazy weapons. Every game is doomed from the start, but you'll fight with honour to complete your mission objectives and achieve the best possible score. Dodge an endless assault of weapons as you orbit around the boss on a fixed circle, it's not as easy as it looks.
What's New?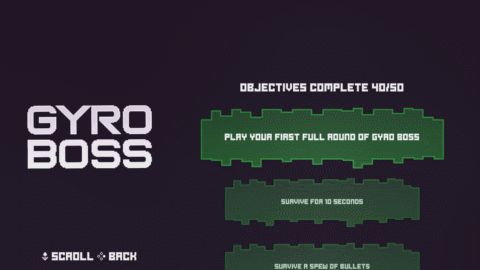 Mission Objectives! The original Gyro Boss had one simple goal - beat your high score. We realise that for some people, high scores just aren't enough. So now you can complete 50 objectives in single player mode. When we bring the game to Steam, these will be full Steam achievements.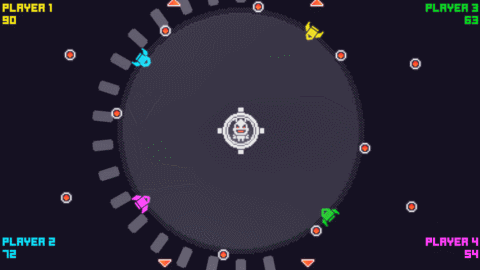 Party Mode - this is the BIG difference between Gyro Boss and Gyro Boss DX. We've added an all new multiplayer mode, designed from the ground up for PC and consoles. In this mode 2-4 players can battle the boss in a variety of mini games. Each mini game adds a twist to the regular game play. Collect the most coins, shoot at the other players, get killed on purpose, etc. The first person to win 5 rounds is crowned the champion!
What still needs to be done?
Hey, this is supposed to be a devlog, not an advert! So what's left to do?
Create a short opening & closing cutscene to give the game more of a back story. At the moment it thrusts players straight into the gameplay.
Tutorial upon first entering a single player match (very brief).
Add unique music to the game. The game currently uses the same music as the original, creative commons music from Free Music Archive. We want the game to have its own soundtrack, but at the moment our budget is limited.
Add Steam achievements for the objectives and Steam leaderboards for single player high scores
A few other minor tweaks and fixes
Full robust testing / QA pass from start to finish.
Get feedback from posts like this and ponder over the suggestions made by the community! :P
In future, some time after the PC version is released:
Implement mobile controls and publish on Android & iPhone
Port to Xbox One and Nintendo Switch (subject to approval, of course).