Place the blue X Block at the goal (white arrow). Take advantage of auxiliary Blocks by thinking creatively and acting timely. Otherwise Kites, Replicators and Absorber Blocks will only hinder you! 8 levels only comprise this minimalist platform-puzzle. Enjoy & Good luck!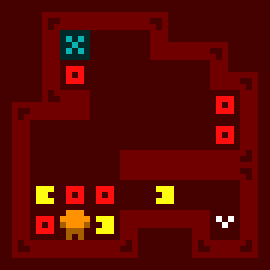 A level from Blockworks showcasing Absorber blocks, and the inaccessible X Block at the top.
Control your avatar with the arrow keys. Press X or spacebar on top of a Block to pick it, press again to drop it. Press R to restart the level.
Credits
Programming & Design: Pedro PSI
Music: Nowhere land by Kevin McLeod
Made with Puzzlescript