Whether you are here for business, pleasure, or to escape the terrible blizzard that raged for hundreds of years, Octopus city has plenty to offer. From educational, family-friendly entertainment to a bustling nightlife and a variety of wonderful attractions. Octopus City has it all.
Octopus City
Octopus City is nothing less than a marvel of modern engineering and a testament to human resilience and ingenuity. Of the various mutant cities that once spread all over the world, only Octopus City managed to survive and keep the Octopus alive with a complex system of machines. As the last standing human bastion, the Octopus represents the beating heart of a dying world. So what are you waiting for? Octopus City awaits you.
Eight towers were erected along the massive tentacles of the Octopus, each specialized for a specific function. At the heart of the city lies the Central Administration, the city's democratic government. Under the wise leadership of the Triad and the Corporate Council, Octopus City continues to grow and prosper with every passing day.
For new visitors such as yourself, having just made it to the surface after years of dutiful underground labor (where else would you have come from?), the city might overwhelm you. Following a lifetime of digging tunnels under the city in search for fuel, your eyes and body will need time to adapt to the dazzling lights and clean air.
Once you feel more comfortable, please report to the nearest corporate office for numbering, filing, and indexing. We have prepared a suitable job for you in one of the towers where you will be under the authority of the tower's Magistrate and their contracted corporation. In return, the Corporation running the tower will provide you with housing, health coverage, and monthly allowance.
Note that although you have moved up in the world and left the underground life behind you, your name will still be entered into the yearly Grand Lottery. There is no greater honor for a lucky citizen than to serve three years underground to help our city remain the beacon of light in the darkness of existence.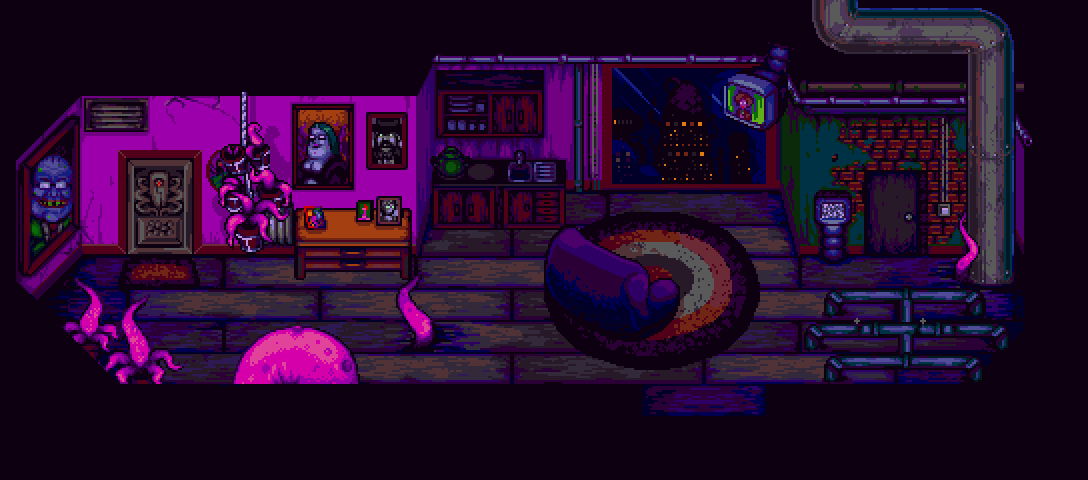 Tentacle Cutter
One last word of advice: Pay no heed to tentacles creeping through cracks in the ground or holes in the walls. The Octopus keeps growing, but the tentacles are absolutely harmless. You can always hire qualified tentacle cutters to make more room in your place, or to improve ventilation by cutting excess tentacles. With that said, under no circumstance should you attempt to drink the blue blood running through them.
Octopus blood (Octoblood) addiction is a serious problem that the Administration is committed to fighting. While Octoblood-induced hallucinations might seem like a stimulating experience, addicts end up consumed in these dreams and are no longer able to return to reality. Say no to Octoblood!
We hope you enjoy your time in Octopus City. The greatest, largest, most populous, and ONLY city in the world. Welcome to the human race!