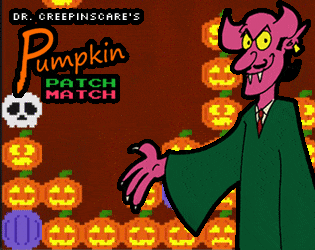 I conceived of this game at if it were a forgotten early 90s licensed PC game, featuring the character from the beloved Halloween animated special, Dr. Creepinscare. It has an appropriately low-fi aesthetic and a spooky atmosphere.
This is a falling block game, were you must match pumpkins in 2x2 blocks, 3x2 blocks, or 3x3 frames.
Features a kitty cat, voiced by Boris, a real life cat.
I also thought of this game as an exercise in intentionally confusing puzzle mechanics. The pumpkins all have similar sprites, varying only in the specifics of their carved faces. You'll have to plan carefully!
Available for free! https://jdmgames.itch.io/pumpkin-patch-match