Synced Warriors is a puzzle game where each button press controls all of the characters on the screen at the same time. The main feature of the game is that each character moves relative to the direction they are facing. This means that if you instruct the characters to move left, they do not move to the left relative to the camera. Instead, they move left relative to the direction they are facing. This makes for some interesting puzzle situations as you attempt to orchestrate a battle between the forces of red, blue, green, and yellow.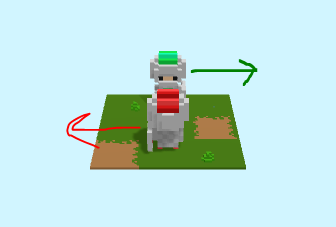 The goal of each level is to get a soldier of the correct color onto each of the puzzle pads. In addition, you need to have exactly as many soldiers on the level as puzzle pads. So, not only do you have to worry about moving soldiers to puzzle pads, but you also have to kill the extra soldiers.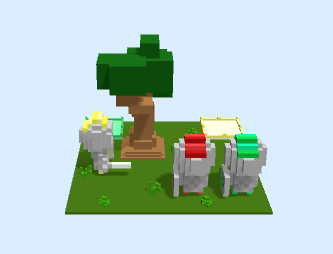 In the above screenshot, yellow has to reach the top right of the level, green has to reach the top left, and red has to die.
This project was born out of two other projects. The first was a Sokoban style entry to Ludum Dare that I was super depressed about. The other game was a project I have tried and failed to make many times that involved multiple characters in separate worlds being controlled by the same inputs. I'm pretty happy with the current incarnation of these projects.
In addition to the puzzles, there is an infinite mode where new soldiers are generated and the player must keep the population below a certain point. In the infinite mode various obstacles appear randomly and the game grows more difficult the more moves you make.
I also have an idea for a multiplayer chess-like version, but I'm still working on the rules of the game.
A link to the game page will be available when I get a short demo ready in the next week or so. Subscribe to receive updates as I add them here over the next few weeks. I hope to have the game released in the next 2 months.