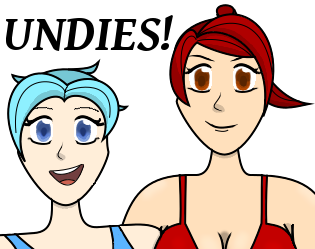 Meet Water and Fire.
Hello, everyone! This here's my first post on itch.io. I've been around for a while as a lurker, but now it's time to show the world my game! It's a work in progress, but there's already several hours' worth of gameplay.
Please note: this game is marked as NSFW for adult content (erotica). More details can be found on the game's page and my first Devlog.
Welcome to the world of Undies: Undervalued Independent Elementals. These four lovely ladies are the embodiment of the traditional elements of nature: Water, Fire, Wind and Earth. Together, they keep the world running -- more or less. Wow, I like this. I think I'll post it on the game's page after this!
Why Undies? Well, a major game mechanic is clothing destruction -- but it's not like some other games you might have seen with this feature. Here, having your undies exposed means you lose some core skills, but you gain other powerful skills in return. Enemies can be exposed too, with the same effects. This creates a dynamic element that is unpredictable and can force you to change up your tactics on the fly. Even an average battle can become a fight for survival if you're unprepared!
Anyway, check out the game's page here for more details and to give it a try! There's currently a Windows download, and hopefully I can get the browser version working soon. I'm just waiting for a response from Itch.io support!
Thanks for reading! I welcome any and all feedback, here or on the game's comment section!