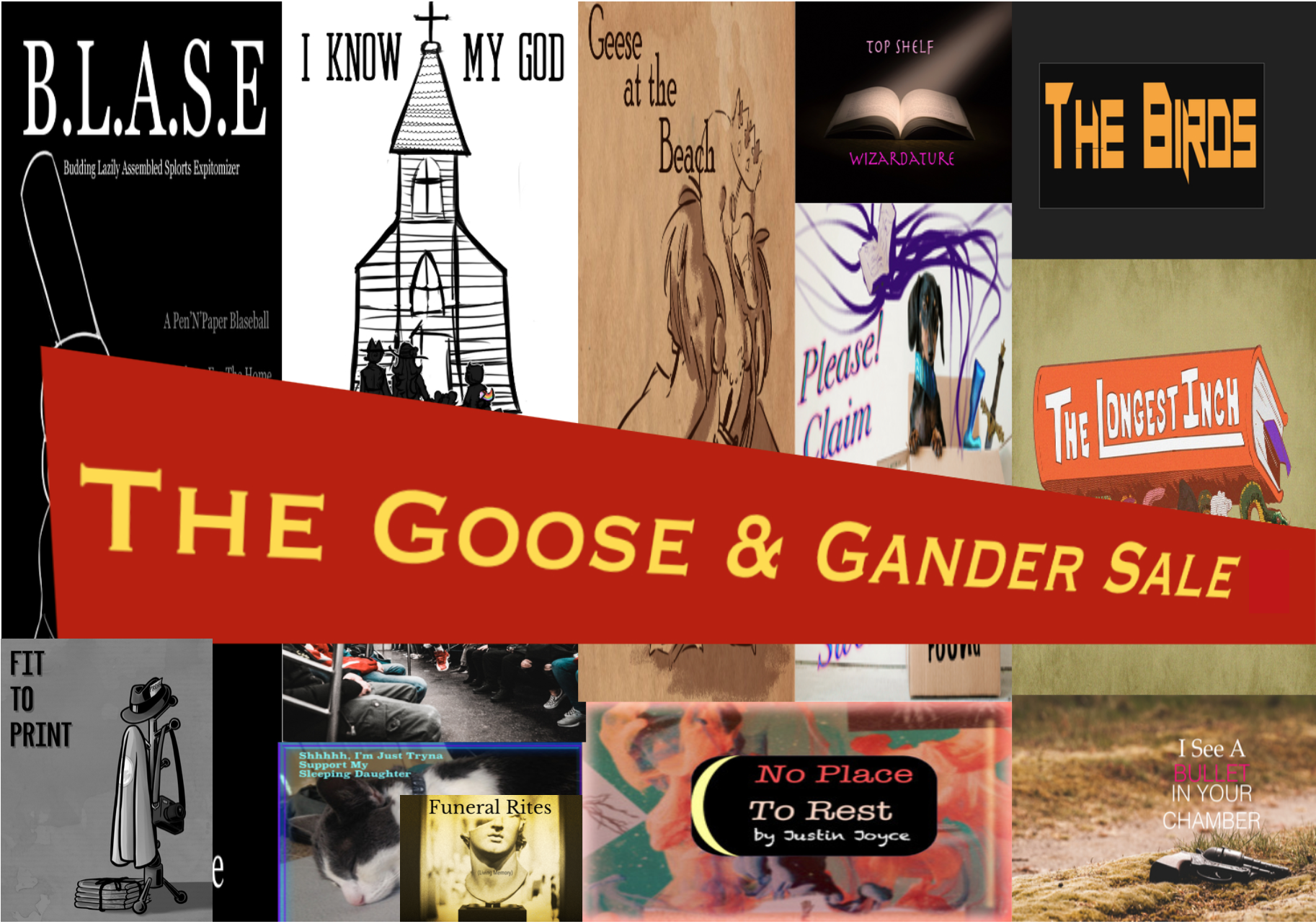 WELCOME TO THE GOOSE & GANDER SALE 4: THE BIG RETURN BONANZA!
Are you currently on the look out for a bunch of new games? Need a new game for the holiday season? Well, here's your answer!
This is the annual sale and bundle held by tabletop creator Justin "Hyper" Joyce! You can acquire all of my paid-for games for just $11, or you can buy any individual game for half its usual price! We've got a wide selection of genres, and games made for any budget!
What do you get? GAMES! Lots of games. Ever need a game to run for a group that couldn't get all together? Want to run a simple game for a one-shot? Need some simple and unique world building for your game world? Want a really, really wild time no matter what you pick up?
Here's everything included in the bundle:
For A Better World: Fit To Print– A simple d4-based tabletop RPG where your party play a collection of journalists as you follow in the footsteps of a strange mystery involving a Superhero and their Supervillain. Unravel twisted conspiracies, discover strange new people, and uncover the truth!

B.L.A.S.E.– This is a full, 90-page adaptation of the internet phenomenon BLASEBALL, with a custom built system made to capture the best parts of playing the game on the field. It's a baseball simulator RPG, but that if baseball was in a mirror reality inside a blackhole! Get in now and you'll get all of the new content and updates for free when they drop!
Geese At The Beach– A one-move PbtA game where you play as a collection of animals trying to collect shiny treasures for a strange, eldritch Goose King. Fight tourists, battle strange creatures, embrace the GOOSE, and collect cool treasures. A honking good time at the beach for you and your friends!
I Know My God– A queer, solo-journaling RPG made as a hack of plotARMOR. You play the main character of a claymation christian edutainment show as you have to navigate the strange and contradicting beliefs of your religious town. Challenge beliefs, find your queer self, and confront those who would stop you.
No Place To Rest– A simple one-move PbtA game about a group of amateur paranormal investigators exploring a strange, haunted house. Quick to set up, simple to play, and ready for you to engage with the spookiest things that bump in the night as you uncover why the Paranormal is here.
FUNERAL RITES (Living Memory)– A collection of three one-page two-player microgames about playing Greek warrior on the shores of Troy at the height of the Trojan War. Battle on those shores, die in the sand, mourn for your lost brothers, and try to keep their memory alive on the journey home.

Please! Claim Your Magic Sword!– A one-page worldbuilding game designed to create the strange, enigmatic, and magical items that populate your world! Great for any setting that needs a little spice of weirdness.
Top Shelf Wizardature– A book-based worldbuilding game designed to help you fill the unique books that populate your world. Rebuild a wizard library's book collection and discover the fiction, nonfiction, spellbooks and more that fill the shelves of your world!
I See A Bullet In Your Chamber– A card-based social deduction game about playing a collection of future-seeing wizards who are playing Russian Roulette! All you need is a deck of cards and a few friends.
The Longest Inch– A quick to set up, all-ages RPG about a collection of worm scholars who need to infiltrate a school before they throw too many books in a dumpster. Save the books! Protect the knowledge!
THE BIRDS– A custom game supplement created for Spencer Campbell's NOVA. With this supplement, you game access to three new playable classes, called Sparks, that are based on birds. A flock of sentient Canaries, a solar-infused Vulture, and a very angry very hungry Goose.
Shhhhh, I'm Just Tryna Support My Sleeping Daughter– A fun little joke game about closing your eyes, pointing at pictures of my beautiful cat Selena, and doing your best to make sure you actually touch the cat! A fun time, and also you get a punch of pictures of my cat!
Just Tryna Pay Rent– My esoteric little closet lyric RPG that is just a victory screen. Be one of the very, very few who can say that they own this bad boy!



THANK YOU FOR LOOKING. THANK YOU FOR PURCHASING. GO OUT AND GOOSE IT UP!