Hello! Wash here, designer and creator of Mour, a shared universe of short stories and games. Currently, Mour has 4 games and 1 TTRPG add-on:
- The Last Moon - A cozy camp & weird tales journaling game 🌙
- Furyya - An adventure of vampires and cyberpunk dystopia 🧛
- Journey In Search Of The Unknown & the supplement I'm A Little Bit Beyond The Horizon - A journaling game about exploration and mysteries ✨
- Sky Beyond The Darkness - Post-apocalyptic survival diary game 💀
Well, english isn't my main language, but I love to create games on itch.io and for the ttrpg community, which communicates mostly through English. Last year I created a bundle like this - with fewer games, in an attempt to raise funds, but I was not successful. I decided to try again this year. This funding with some goals focused mainly on making a good professional translation of the existing games and some other ideas that I want to bring to you. I hope you enjoy, play these games and have much fun, share your opinions and support this project.
⚠️ Note: Folks, I had a tragedy, my computer crashed and I lost ALL the editables from the games. I was able to recover a few, so I will start reviewing the ones I recovered and I will change some things in the goals, ok? I apologize and hope you understand.

Log:
Mour FPS (Fast Play-System) availabe.
Journey in Search of the Unknown revised version available!
Furyya revised version available!
Goals:
$100 | Update + Supplement of Furyya! [Drop 15/Nov][Check the log on Furyya's page]
$150 | Revision of The Last Moon
$200 | Revision of Sky Beyond the Darkness + creation of 1 add-on (also w/ pro translation).
$300 | Recreation of the game Journey In Search Of The Unknown & the supplement I'm A Little Bit Beyond The Horizon in a zine format with additional content.
$500 | Adaptation & translation of YAKEMY - A fast-paced game of biocybernetics creation 🦾 + creation of 1 add-on (also w/ pro translation).
$800 | I'll make a giveaway (w/ worldwide shipping) of a custom set of dice inspired by Smaug! Yeah!
$2000 | I will be able to finish & translate 1 new game called A Tale Of The Sea, a sensitive TTRPG about a fantasy misadventure on the seas of Mour, based on daily notes and randomized events with 100% customized tarot cards to print & play.
$3000+ | I will be able to finish & translate 1 new game called The Obscure, a TTRPG journaling game inspired by the aesthetics and horror of the 80s & 90s, where a group of teenagers will have to face an evil force spreading in the city of Meradosia. The game will be aided by a tarot deck and various additional materials for immersion, such as newspaper clippings, stamps, cards, notebook drafts, and more.
🔥🐉
"My armour is like tenfold shields, my teeth are swords, my claws spears, the shock of my tail is a thunderbolt, my wings a hurricane, and my breath death!"
Smaug, is a dragon character created by J. R. R. R. Tolkien in The Hobbit. This is a D6 dice set, consisting of 5 handmade pieces made of resin and gold paper. Inspired by the imperfections of the ancient stone runes and also by the truculent imagery of mythical dragons, each die represents a portion of this creature's body.
These dice are individual pieces made in a completely manual process, so imperfections and sanding marks etc. are normal and part of the handmade product concept.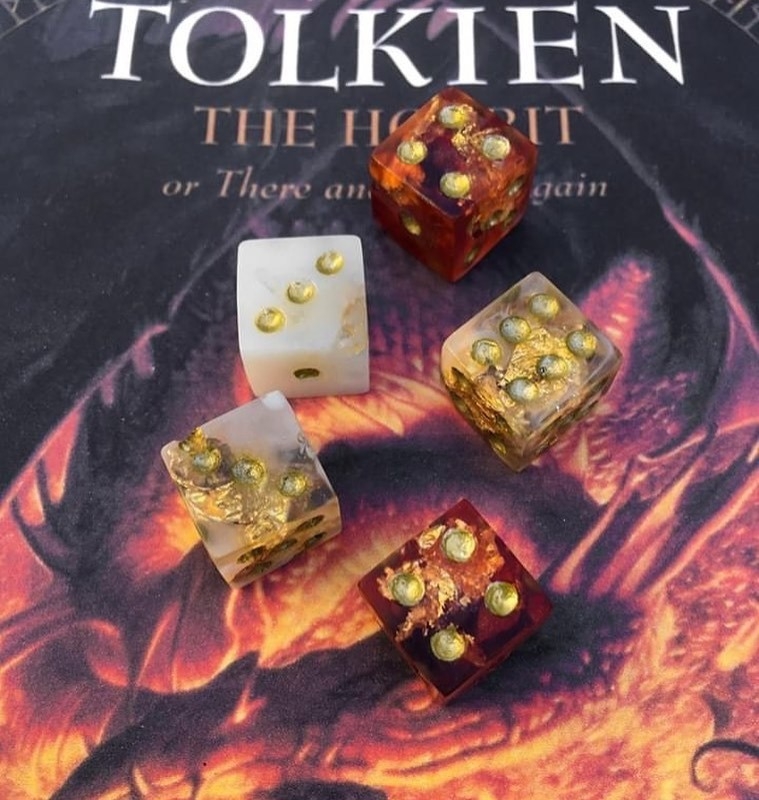 The translated games and supplements will be delivered within 1 month of the goal being reached. The new games will be delivered by email to all backers within 6 months after funding, including extra materials about the culture, people and stories of Mour.
Why Itchfunding?
Kickstarter is a great platform, but my country has no entry for campaigns, unlike Itch which allows people from many regions to participate. Today I'm unemployed and trying to get a job, but in the meantime I'm trying to dedicate myself to creating games, because it's something I love to create and share. If you can't a
If you can't help because you are also in a difficult situation, that's fine, you would help a lot by sharing and even giving your feedback on the games. And if you'd like to play and can't buy, let me know, I'll be happy to provide a community copy of any game for you to enjoy. Mail me at heyalbqrq@gmail.com.