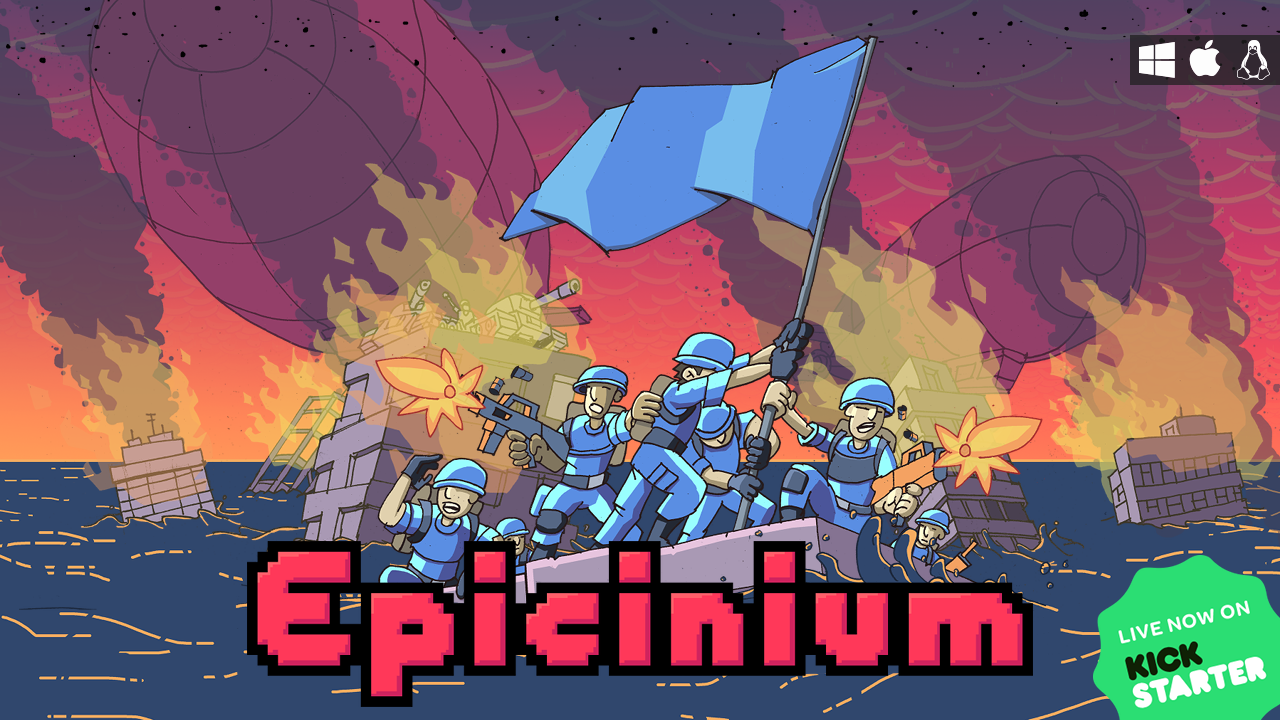 Hi there!
We'd like to thank each and every one of our backers so far. Your pledge, no matter how large or small, is truly appreciated, thank you!! If you haven't backed yet, we can only finish this game with the help of our amazing backers on Kickstarter, become one of them. <3
Developer match livestream
Next Friday, Sander and Daan will brawl against each other in a live developer match. We will play three games, with the total number of points determining the winner. Sander will be streaming the event from his perspective on his Twitch channel, talking about some of the strategies he uses as well as answering your questions from chat. The stream will start at 21:00 CET on Friday, so see you then!
Another thing: we just updated our FAQ page on Kickstarter. We answered some frequently asked questions about ports to mobile and Switch, language support and the open-source release. Look for that here.
Social stretch goals - new modes
We got featured as a Project We Love! That means the Kickstarter people like our project too. :-)
Also, our announcement tweet has been retweeted enough times (54 at the time of writing) to unlock Correspondence Mode! In this asynchronous multiplayer mode, players can come online and submit their orders at any time. This allows you to be part of multiple matches at the same time, playing your turns whenever you see fit. With this mode also comes the functionality to save and load games, including versus AI games.

The next social stretch goal to be completed is the Battle Royale mode. In this zany mode, up to eight players will start with a couple of units on a large open map. Instead of being caused by extreme global warming, Death will immediately appear on the edges of the map and slowly but steadily make its way towards a random location. At the end of each turn, all units, buildings and trees inside a tile affected by Death are destroyed. Players can capture neutral City tiles scattered around the outside of the map, but they may be forced to pack their bags and settle elsewhere once Death arrives. This continues until only one player remains, or until the dark void consumes everything...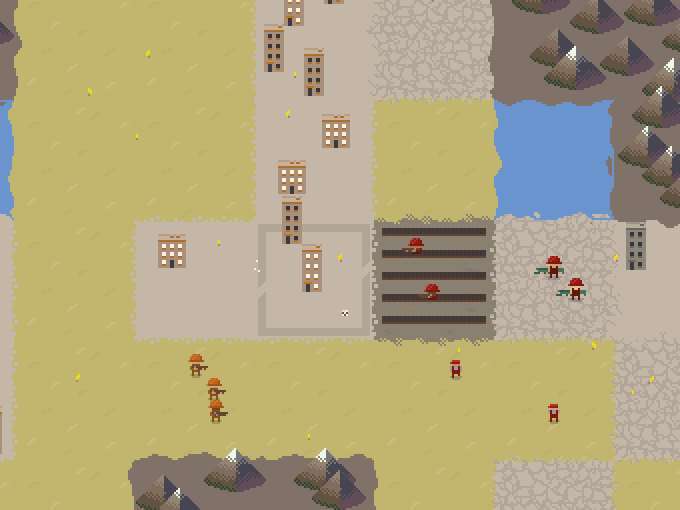 Epicinium is a game of balance. We handcrafted lots of checks and balances, positive and negative feedback loops to make its gameplay interesting and fair. We talked about this in our community match video. Here, we mentioned the limited number of new orders per turn as an example - your army can become so big that it becomes uncontrollable, allowing your more versatile opponent to take advantage.
Another example is in the environmental gameplay mechanics. In Epicinium, the victor is scored for how much nature remains when the dust settles. At the end of a game, all the remaining grass and forest tiles are tallied up, and that number is given as points to the winner, contributing to their competitive rating. This way, the game map itself is a giant score counter.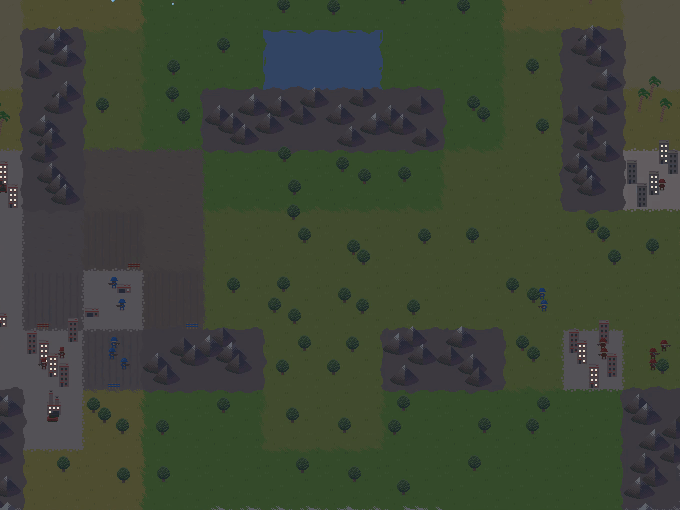 points being tallied up at the end of a match
This lends extra weight behind all the decisions you make in a game of Epicinium. Every bullet hits something. Every enemy city you destroy is a city you can't claim for your own. Building lots of industry will give you mad income and allows you to purchase tanks - destructive war machines that will dominate the playing field - but also makes those devastating weather effects like bonedrought and frostbite commence that much quicker. Every grass tile you trample with your tanks near the enemy's cities prevents those cities from growing - giving you an economic and military edge, but also one less point when you do win.
This adds depth to Epicinium's gameplay, not by punishing the player for a certain play style, but instead by adding additional considerations and challenges to each one. A new player might be unaware of most of these mechanics and might not care - they just want to win! Losing gets you zero points, after all! They go all-guns-blazing and pump the map full of industry and tanks, fill every nook and cranny with farmable soil for that extra income, and this might even work! Despite their inexperience, they will win lots of matches, even against more experienced players who opt for more eco-friendly, but slower, strategies. However, they won't get very many points from each match, causing their rating to increase, but remain relatively low.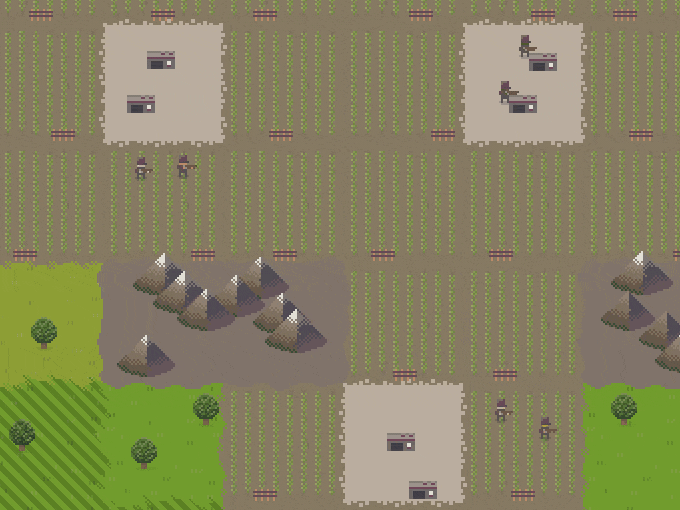 If this new player wants to improve their rating further, they will need to learn how to win the game with more points. The balance is delicate, because giving up that much firepower might cause them to win less often, but really, do they need that much firepower to win against most opponents? But even among the higher rated players, who might go for a green strategy from the start because they need every point - they've got a high rating to uphold after all -, there is the continuous temptation to deploy a few tanks anyway to give themselves an edge against an unsuspecting opponent.
I have written more about this, illustrating the point further by comparing different types of Epicinium players. However, I've saved that for the new devlog on our page so this doesn't get too long.
So does this mean the nature-vs-destruction axis is the only consideration when crafting your strategy in Epicinium? Absolutely not! It's just one aspect I emphasized here for a more detailed look into the game and our ideas behind it. We also have a unique simultaneous action system, a surprisingly simple battle damage model, a...
But I have to stop here and save them for another update - you already read through a wall of text (congrats, you made it! whew).
If you're reading this and made it this far, you're likely interested in Epicinium and maybe pledged already, or are considering to. We're extremely stoked to have you on board with us on this journey! Back the project, share our posts on social media, and give your personal recommendation to friends. We are only able to finish Epicinium with your help. I'm convinced that together, we'll get there! We'll speak with you during the dev match on Friday. Take care now.
Cheers,
Sander & Daan (A Bunch of Hacks)