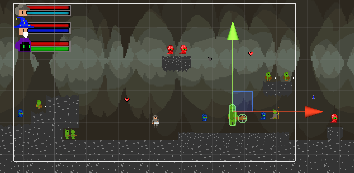 At this very moment, i am making a game where 3 heroes are adventuring a cave system to clear it for the kingdom's security(That's the story i guess).
You would have three heroes; The Knight(Fats,Agile,Melee Specialist), The Wizard(Polymorphic and Homing Mage) and the Necromancer(Multi-Targeting and Summoning Dark Wizard)
Each hero has a basis,special and ultimate attack which is used in different scenarios.
You can change between heroes by pressing space.
Base enemies are goblins with different attacks and behaviours and i'm working on perfecting two bosses right now.(Goblin Classes but don't underestimated them) In the future probably more enemy types if i can make them
I'm relatively new to game development and a lot of things are wobbly and not perfect.Game title not decided yet.One level only for now