hello
yes it is i - alex. work has been slow on my end because life is hard sometimes but i have news both good and bad!
James recently discovered software Spine which I have now decided I will devote my time now to learning and perfecting to bring u new and fresh and clean and wonderful animations, characters and goblins!
The discovery was fortuitous as not much of the "final" animations have been done so far and James and i discovered there were some issues with the way we wanted to do goblin randomisation. anyway those problems are over! but it might mean having to stay tuned for any more future animtions, at least for a couple of weeks.
here were some of the goblins who already exist but say goodbye to them you will never see them again u will only see greater, better and fAR MORE RANDOMIZED goblins FROM NOW ON!!!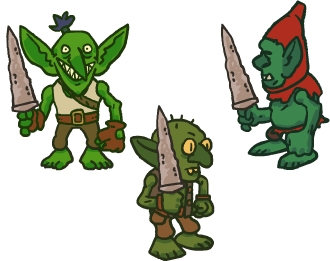 smell ya l8r
alex