(Yesterday)
7/13/2019
Spent some time applying ATL to Jaeger's GUI elements. This is the "Options" gear; hovering over it makes it move, clicking on it takes you to the Options menu. As you can see, the gear looks a bit wonky here because I wanted to spin it in two different directions, and I made some ugly, imperfect cuts in the image to do so.

I jotted down some ideas but didn't really do any writing. I did, however, speak to some friends about the love interests' characterization (which REALLY helps).

(Today)
7/14/2019
My biggest accomplishment today was treating myself to a nap.
Between taking care of a feisty new kitten and corresponding with a million people, I wore myself pretty thin! Good news, I spent some of my nap with the kitten and it calmed him down a lot. He no longer bites me for attention.
In regards to game design; in order to have an easier life, I simplified my code to have it spinning exclusively.... counterclockwise...?
>:(
Note to self, switch to clockwise.
We also added a fully functional "progress meter" to the upper right, and a "quicksave" function.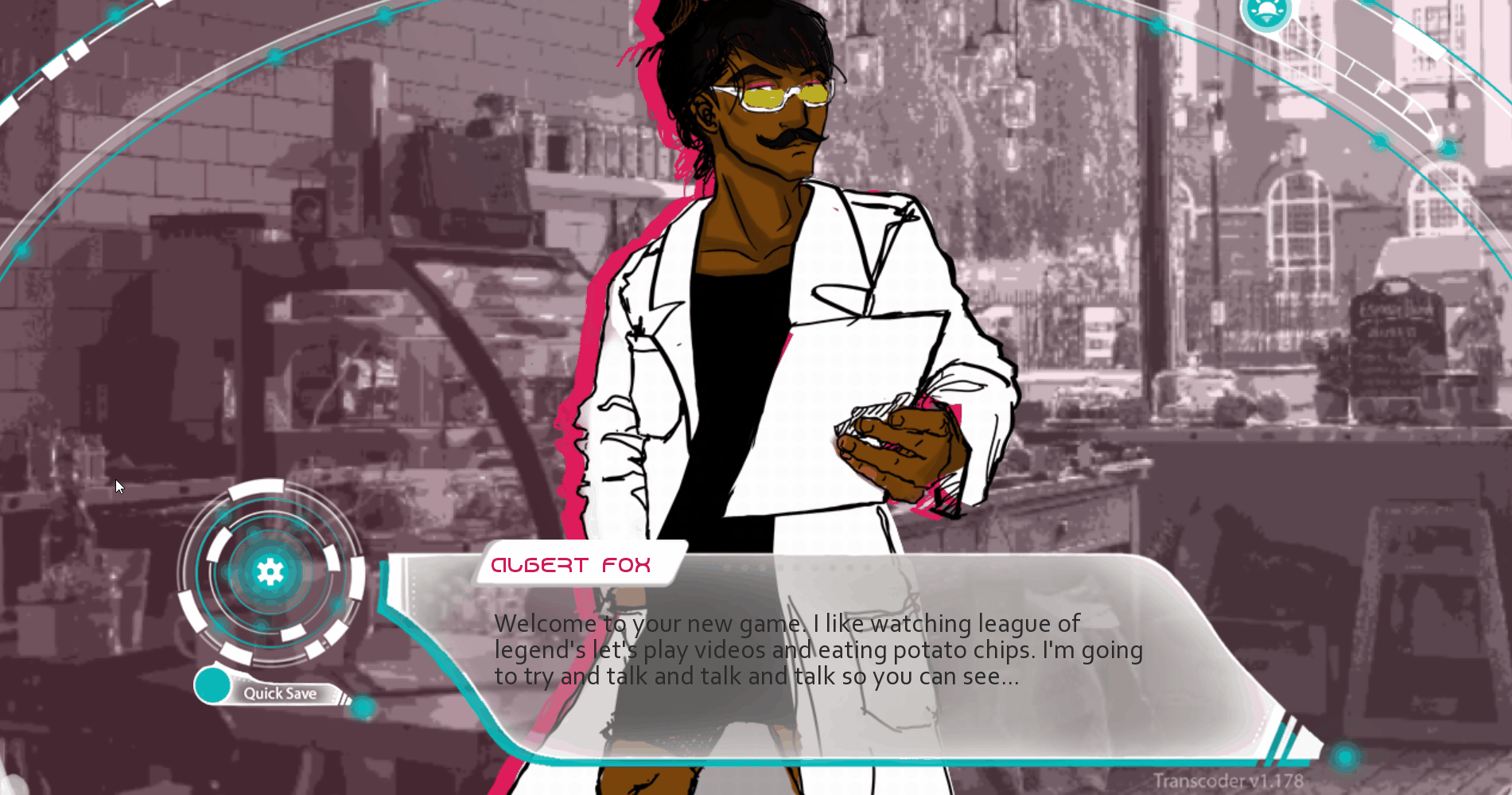 Added a character limit to renpy.input to ensure the player doesn't name themselves "ssfkjdsufnasiodsoinnfkjdsnfkjfnlkadnsoefnsongoku" and break my character name box.

ᴬˡᵗʰᵒᵘᵍʰ ᵗʰᵉʳᵉ'ˢ ⁿᵒᵗ ᵉⁿᵒᵘᵍʰ ˢᵖᵃᶜᵉ ᶠᵒʳ ᵀᴱᴿᴿᴼᴿ ᴼᶠ ᵀᴴᴱ ᴰᴱᴱᴾ, ᵗʰⁱˢ ˢᵘⁱᵗˢ ᵐᵉ ʲᵘˢᵗ ᵃˢ ʷᵉˡˡ
Wrote about 5 pages of content today (and counting). I'm beginning to think my aspiration to do character expressions was a show of utter hubris. I'll need all the time I can get just to finish writing the story. OTL