I've made a tweet thread about this, but I thought I'd make a thread in the jam too.
Obviously a Jenga tower is a bit more specialised than dice or cards, and can't really been done easily and properly online, so here's a simple mechanic that uses d6s (and an online dice roller like orokos.com):
1st pull: roll 100(!)d6, take out the 1s,
2nd pull: roll the dice you have left, take out the 1s etc.
'lose' when you run out of dice.
100d6 is a lot, which is why you should do this digitally! Here's what one random run of this looks like: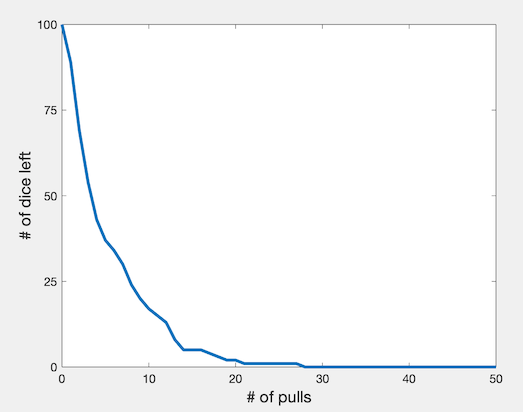 At the start you're pretty safe, but you lose dice fast. In the middle the tension is building. In the back end you have a final stretch with few dice before you lose.
And here's how things look on average: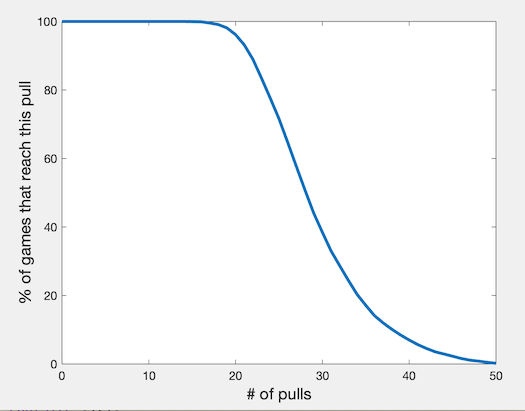 Most games take at least 20 rolls/pulls, and most are done by 40.
-
Here's the same thing if you roll a d20 every 'pull' and end the game if you roll a 1: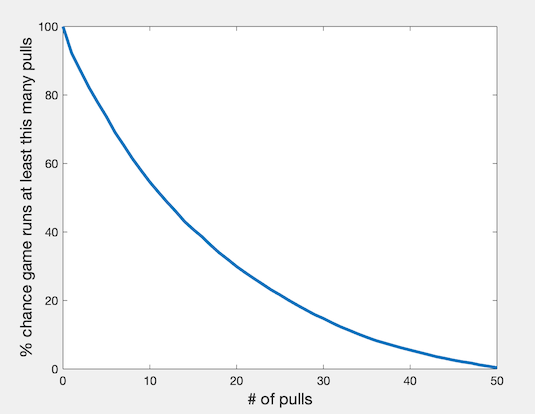 As I say in the tweet thread, you could wait until the second 1 to end the game, but it's not much better. Waiting until the third 1 just takes too long. You could also do nothing for the first 20 pulls and start rolling the d20 on the 21st pull, but then there'd be no mounting tension, no dwindling hope, no visible tracker for how bad things are going. The 100d6 mechanic has a story baked in. That said, I'm nobody's boss, people can go with whatever mechanic they like!