This hopefully is a list that sparks your imagination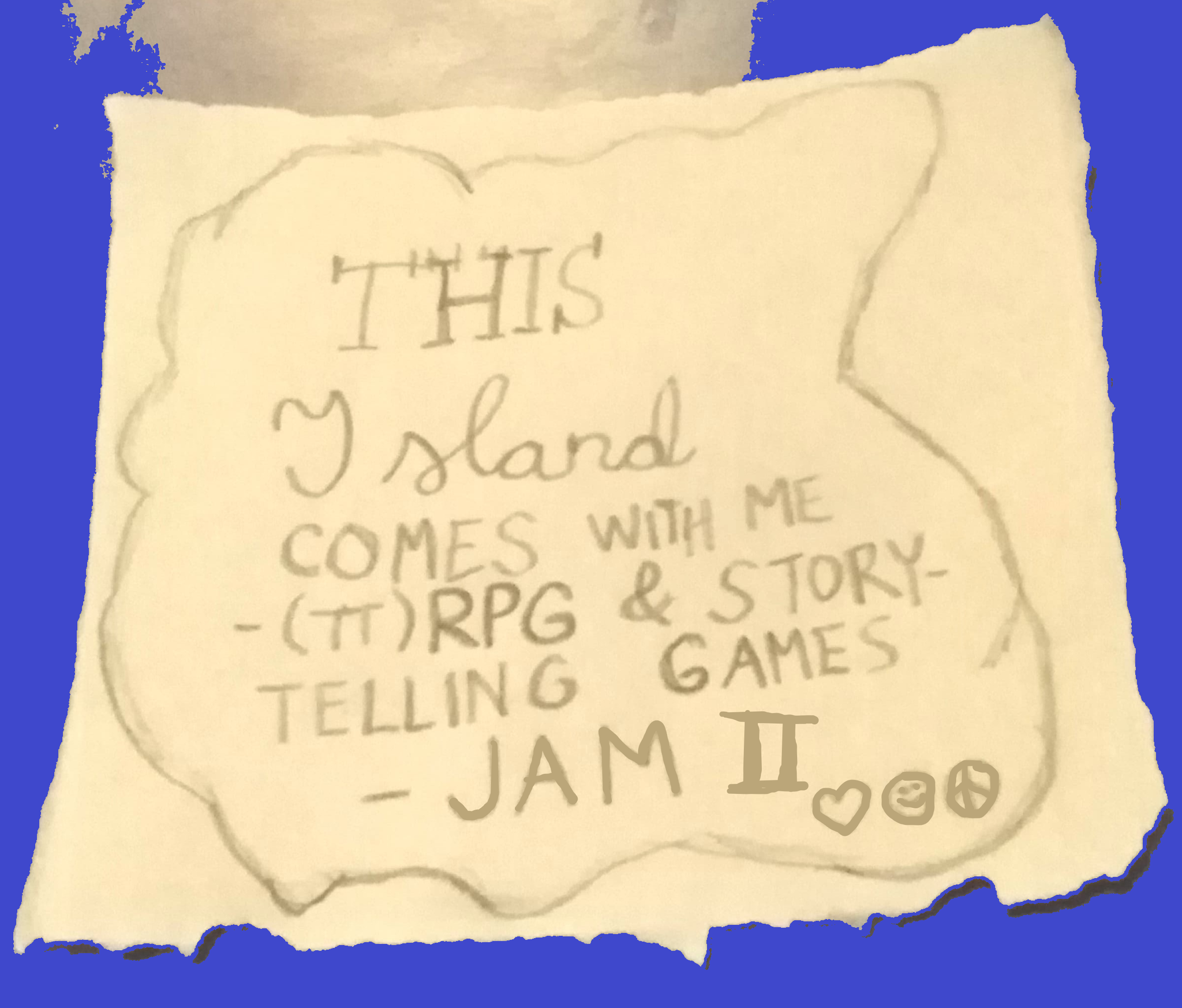 I shall update this here and then. Feel free to reply with a link that you feel it somehow connects with the theme of the jam.
You are an Island art piece by Alicia Eggert
https://www.artstar.com/products/alicia-eggert-you-are-on-an-island
This a very interesting and a bit adventurous review of Lost Island. Lost Island is a book by Preston & Child -writer duo.
https://mojofiction.com/2019/02/24/the-lost-island-a-book-review/
This Island Earth is an interesting low-fidelity science fiction movie
https://en.wikipedia.org/wiki/This_Island_Earth
We all are Prisoners of this Remote Island Known as The Village RPG
https://krisseaappenatuominen.itch.io/weallareprisonersof

Very Interesting text about a tiny Welsh Island, which is Europe's first Dark Sky Sanctuary
https://www.smithsonianmag.com/smart-news/this-tiny-welsh-island-is-europes-firs...

Periplo aka The Journey is a Cool and very minimal nano-RPG made only with 12 words...
https://juanpablofdez.itch.io/periplo
Our Little Island is a very nice simple game
https://tinyworlds.itch.io/our-little-island

Paradisia Island is great RPG material... Check it out!
https://toorte.itch.io/eng-paradisia-island
Monster Island (2019) is a total b-movie exploitation over-the-top flick
https://en.wikipedia.org/wiki/Monster_Island_(2019_film)

The Monster from this Island is a random generator tool for making monsters and islands and island monsters
https://krisseaappenatuominen.itch.io/the-monster-from-this-island

Monster Island (2004) is a b-flick located on the Bermuda Triangle, starring Carmen Electra.
https://www.imdb.com/title/tt0382856/

Dino Island -The Four Crystals is a very interesting game... I mean, dinosaurs and Islands. It jus IS Cool <3
https://felipehunter.itch.io/dino-island-the-four-crystals
Carpe Diem, Carp Briem! RPG
https://krisseaappenatuominen.itch.io/carpe-diem-carp-briem
Everything is Going to Crab is a hilarious mini-RPG
https://owlsten.itch.io/everything-is-going-to-crab

Monster Island (2017) is a family-friendly cartoon movie about finding your roots on Monster Island
https://www.rottentomatoes.com/m/monster_island_2017_2

Paint the Move: an article about Lynchianism
https://bigthink.com/high-culture/david-lynch-movies-dont-need-to-make-sense

The Stalker Game Review: Welcome to the retro-future!
https://krisseaappenatuominen.itch.io/the-stalke-game-review
Deep Trouble in Oldport Bay is very interesting and thought-provoking RPG material
https://zadmar.itch.io/deep-trouble-in-oldport-bay
High & Dry RPG is a solo journal tabletop roleplaying game about being stranded on an island
https://the-velvet-beehive.itch.io/highndry

The Golden Idol is a Tabletop Action and Adventure Game
https://zeruhur.itch.io/golden-idol

Soft in the Head, Soft in the Heart - Soft Values RPG is a very experimentative, minimalistic poetry roleplaying game...
Ogygia is a game about an immortal trapped on an island paradise, with only the company of various travelers who always end up leaving.
https://metagame.itch.io/ogygia
https://felixisaacs.itch.io/thewildsea
A great article about well-traveled Viking woman
https://bigthink.com/strange-maps/gudrid-far-traveled-viking-woman/
Over the Mountain is a very interesting one-page fantasy journaling roleplaying game played solo
https://marchcrow.itch.io/over-the-mountain
Hodgepocalypse is a Beautiful Mess of an interesting RPG World Designing. Truly dig it on multiple levels.
https://shadesofeternity.itch.io/hodgepocalypse-players-guide

Einstein on Free will and Imagination
https://www.themarginalian.org/2023/02/26/einstein-free-will-imagination
An interesting article about star seeds people
https://www.sciencealert.com/people-among-us-identify-as-aliens-inside-the-stars...

https://www.themarginalian.org/2017/10/23/wislawa-szymborska-pi/
https://www.sciencenews.org/article/fish-recognize-photo-self-aware
Birds, frogs, and reptiles program embryos
https://www.freethink.com/science/animal-development
https://www.sciencealert.com/time-reflections-finally-observed-by-physicists-aft...

LAST BUT NOT LEAST,
NOW,

SOME MUSIC <3
Whatever You make (for this jam) keep your mind open like a floating island, and make whatever pleases You the most <3
wishes You, da curator of the Jam, Krisse Tuominen
Ps. I shall add some more links in the near future...