We all know what are the two most important things in awesome game: great title and gameplay we've seen before. So i want to invite you to participate in gamejam where you should start a little bit different: from a title. Start with the idea of title from existing game, twist it and add simplified gameplay. Here's some examples:
Specs - Master of Slideshows - an office hero tries to achieve 60fps on a crappy computer and to do that he has to quietly steal components from coworkers computers
The Beacher - Mild Blunt - adventures of a surfer, his superpower is white powder, PEGI 21
FatMan - Dark Ham Will Style Him
Mocassin's Greed - indian tries to find a key to chest full of gold. With a hood on a head.
Violent Will - Will is going to a small town to find his mother in law. Weird things happen. Turns out she has a barrow on her head.
WineCraft - every time you collect a glass of wine game screen blurrs more and more
Legend of Griselda: Death of the Style - girl with no style tries to collect a perfect dress, with no luck. Open world.
Legend of Griselda: Toilet Princess - public toilet simulator
Clara Loft - Olden Flask - drunk girl tries to find a very old flask with goods (for her).
Golfenstein - golf in a castle during WW2.
Fall Lout
etc.
Feel free to use above as you like.
If you can't participate in jam you can always come up with an idea of title, or if you have (great) title you can make a mockup of what your game could look like or a cd/dvd case - and start a new topic on forum. Who knows, maybe someone else will be inspired by your inspiration that came from spiritual predecessor (what?).
Another great example is Norman's Sky game by nothke (get here).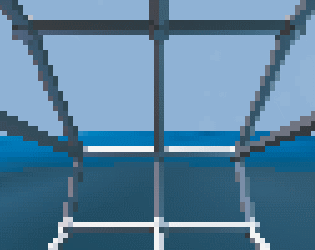 Hint: while making the best game title ever you can use rhyme generator ex. rhymezone.com (warning: results may vary).

Think about original game and try to figure out what is the most important thing in gameplay - take it and do something great (with a great title :).
Also this is a Demake jam so all graphics and music has to be simplified. Use whatever style you want: low resolution, 16 colors, midi music, 3D to 2D. Or pick one of your style.
PSX style (preferred, since this is a PolyStation jam)
GAMEBOY style
AMIGA style
NINTENDO 64 style
etc.
You can do a demake of an old game, so it would be a redemake! (what a game would that be...)
So, three things in mind:
A great twisted title (based on existing game)
A great gameplay (similar to original game - or not, you decide)
Demake media in a great way
And don't you forget to put as many good vibrations to your great game (with a great title) as you can.

Rules:
do not use copyright materials, titles, names etc. (avoiding them is part of fun!)
game has to be released free of charge
do not use original assets
game titles in english language
game doesn't have to be made from scratch during jam - you can prepare some media and do some coding but if you start earlier let us know about it
provide a link to short gameplay video
all entries must be submitted to itch.io and tagged with #polystationjam17
more question? ask on forum, we'll figure something out
Voting:
Greatness of the title
Amount of inspiration from original game
Author's sense of humor
Does the game run on Polystation (just kidding)
Happy jamming :)