Note: This is not a "Otome Isekai" themed game jam, we are an "Otome Game Jam", please read further for more information.
What is an Otome?
Otome or Otome Games specifically refer to games created for a female audience, where the female-identifying player character pursues male-identifying love interests (via routes or events) and opts for a romantic ending with the chosen character. Often coming in the form of Visual Novels or VN-Hybrids such as RPGs and Simulations.
The key parts include:
Female Protagonist (protagonist can be chooseable, but a female option must be available)
Romance (You have to end up with one of the characters in some way)
Male Love Interest(s) (Female, nonbinary, and other ones optional but not necessarily included, the focus is still a male love interest)
For more details on submission guidelines, read further, please.
Want to make an otome-esque game without a female lead or male LIs? Check out our sister jam, Josei Jam.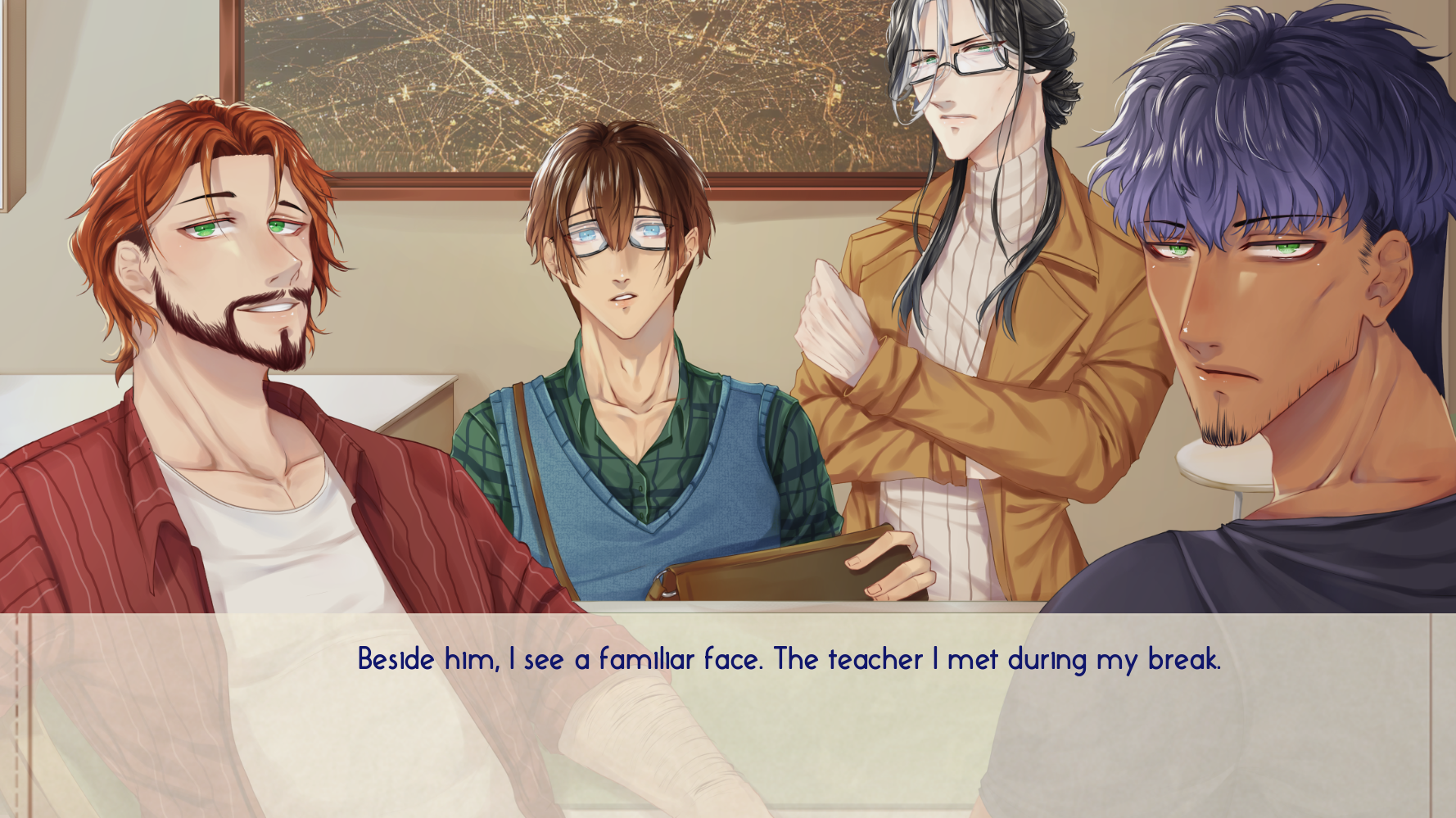 A romance with middle-aged teachers as an actual adult teacher yourself? Try out last year's submission Teachers. With Love and Passion.!
Popular examples of Otome:
3 Seasons (One of 2022's entries)
You can find even more in the #otome tag!
If you're looking for a team or team members, be sure to join the Otome Jam Meet and Greets on April 8th and April 22nd, 2PM Eastern Time (GMT-5) on the Devtalk Discord Server, a community we collaborated with last year and welcomes indie visual novel developers and people wanting to work on visual novels!
Rules
To have your project allowed for submission, it must adhere to these rules
The game has to feature a female-identifying protagonist (chooseable protagonists are fine)
The game has to feature male-identifying love interests. It can feature love interests of other genders, but there must be an equal amount (if not more) of male love interests to other identities' ratio.
The game must have some focus on romance at some point in the story.
What is allowed?
1. R18 projects are allowed. However, please tag and label your game properly for that as well as any content not appropriate for minors, and list any triggering and sensitive content on both the game page and in the game. This applies to both SFW and NSFW submissions. If found to be an unlabelled NSFW submission, the submission will be removed.
1.1. Whether your game is R18 or not, tag it appropriately with any necessary content and trigger warnings. Submissions that promote bigotry, racism, or other offensive topics that are handled poorly will also be removed. Please hire sensitivity readers in such cases.
2. Previously started on otome games are allowed to be worked on and submitted as entries. This jam offers an opportunity to allow upcoming games more exposure and encouragement to unfinished games to be noticed by more people, both new team members and players. Disregard Rule 3 in this case.
3. For projects that are for this jam and done during that time, you can choose to do:
Story and character outlines
Concept art
Gather resources
Join or find a team
Any other tasks that don't involve producing finished assets
4. Although jam games are most of the time free to play, it's not discouraged to make it pay what you want or commercial later on as long as it's stated beforehand, and you provide a demo. We discourage using volunteers working for free or rev-share on a commercial project. Pay your team if the product will be a paid game.

5. Submitting multiple projects is allowed as long as you are the creator or one of the leaders of a project and fit this jam's criteria. The more, the merrier, after all!
6. Use of Free to use, Public Domain, and Creative Commons Licence resources are allowed and encouraged if you can't fill in a position in your team, such as artists or composers. You can always update the game later on with updated materials and a new team. AI-generated content is not allowed.
7. Demos, Beta, and Episodic entries are allowed as long they are in a playable state. It's advised to scope properly and avoid the crunch.
8. You can submit and finish your entry in another jam as long the rules of the other one allow it. Similarly, you can submit games that fit these jam's submission rules from other jams if they run alongside the time of this one or started before Otome Jam. We encourage you to submit your entry to Josei Jam as well!
9. Feel free to use the logo in your game to brand it as a product for the Otome Jam (Right Click + Save As). But please credit Akua / Akua Kourin as the logo artist. Additionally, you should credit your team in the game or on the game's page. This is not debatable unless you have negotiated it with your team members to not include them, and they accepted. If you use resources, do check if they require credits or not to prevent license issues from happening.
10. Yes, a one love interest project is allowed and counts as otome if it follows the requirements. If you have a project with a small scope and checks all the listed points, it's allowed. This can include a game where you can choose the perspective of the two characters' romance, as that counts towards a chooseable protagonist option.
11. Otome Jam has no subgenre theme, and any "themes" we chose are purely for aesthetics and graphical reasons. We take inspirations from shoujo and otome game media to keep things interesting. Please do not feel restricted to any genre or settings, we allow Otome Games of all kind!
Previous Otome Jams:
2022 (with advice threads by two of the hosts!)
Our sister jam, Josei Jam 2023
Developer Communities
Discord Servers
Otome Development - The Host Server
DevTalk - A general VN Development Server and our collaborator for Meet and Greets
Boys Love Development - Our sister server for games that include a male protagonist and male love interests
Amare Dev Server - A Western term for inclusive relationships and individuals in games and visual novels
Forum
VN Dev Wiki - An ongoing wiki project that has a wide collection of resources, guides, and more specifically for visual novel development

Lemmasoft Forums - A Forum filled with indie VN developers and enthusiasts. Big source of coding and assets!
Thumbnail by Akua
Character Outfit Design by Azuremia