Valks: Small update in regards to our Github: [...] It's actually spelled correctly now
Lyn: Is there even a canon spelling?
Valks: Streemlyn Ext
Lyn: there we go
Peter: Memelyn Ext
Valks: memelyn.ext
Lyn: lyn.exe
Lyn: you run it and all it does is call sleep(50000)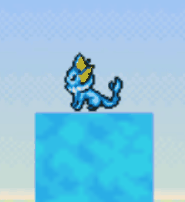 Ok, this devlog is only a little bit late but here we go!
Streamline (Steamline?) Exit is a game about a water elemental trying to open a door. I'm really excited about this project because we have quite a large team. We all went to university together, but as some have graduated, we haven't been able to collaborate as much as we did before. Right now, our Discord has eight members and I can't wait to see what we come up with!
The game is a platformer that uses the concept of water to inform its game play. Drate, our elemental and currently an Eevee, is able to switch between three forms: water, ice, and steam. This will allow you to solve specific challenges in order to open a mysterious door...