I'm sick and taking some time off work today, so I decided to work a little on my mashup game! I decided to combine one of my favorite cult-classic video games, Clock Tower, with one of my favorite cult-classic (and just in general) movies, Eraserhead! I don't have a heck of a lot of free time the next couple weeks, but I'm still having quite a lot of fun messing around with this idea. Here's a little GIF of player and enemy movement going on.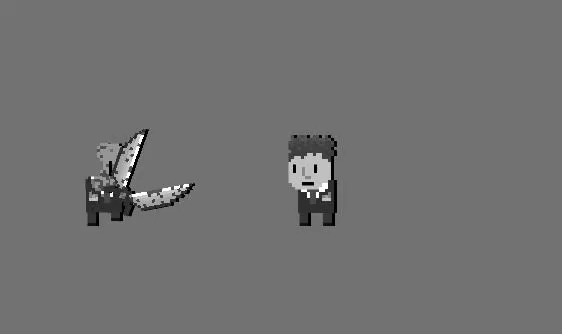 May 3rd Update:
Working a bit more on mechanics, and AI. I also have a very barebones tilemap setup. I've been trying to base the AI off how the AI worked in the first couple Clock Tower games. There's even a random chance that the baby will be hiding in a closet after they give up searching for you. I'm happy with the results so far!
May 8th Update
I've made quite a bit of progress since the last update. I've gotten a basic layout/structure of the game done (the game can technically be finished now!), I vastly improved the AI, added SFX and some ambience, and... quite a lot of misc. changes + updates that I haven't been entirely keeping track of! There's a couple minor intro "cutscenes" and an ending cutscene I need to do, then I'm going to try making a bunch of art assets to populate the map with. I'm not going to be around this upcoming weekend, so I'm aiming to be finished by Friday. I feel pretty good about what I have so far.