Round 1 is now over, the dust has settled.
With heroes slain and villains lurking, who shall emerge victorious???
Round 2 begins now!!!
Every vote counts! Winners were decided by single votes!!!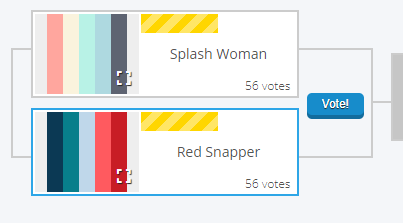 Round 1 ended, with some very close calls! Lisa Frank and Red Snapper are two winners that won by thin margins (Red Snapper by only 1! The screenshot is from 5 seconds before the timer ran out!)
As we move into round 2, our Discord has been really digging into Wood Man vs. Funky Future 8. Propaganda is being generated...