Welcome to October 2017's creative week, the game jam organized by Bellecour Ecole for its students in Bachelor Game Design.
You'll have one business week (5 days) to create a game with the tools you want. The game can either be a video game or a tabletop game, and you can use any engine/tool you fancy (Unity, UE4, ...). The most important part is that you MUST submit a game before the deadline, as you'll be judged based on your submission.
You can enter the jam either solo or in a team, but bear in mind that a team may bring you a lot more than just participating on your own (but if you like challenges, go ahead!).
There will also be a voting period where you'll be able to rate and comment other participants' entries. It's almost as important as submitting a game so try to rate/comment at least 3 games during the given time.
Theme
For this creative week, you'll be able to choose between 2 themes :

Point of no return
or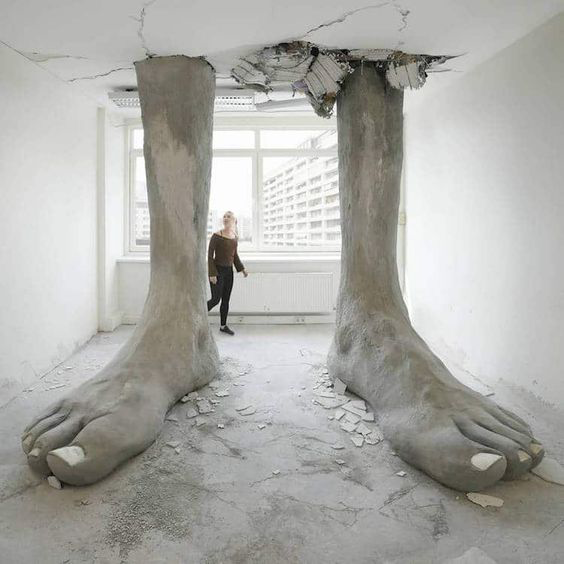 If you need or want to get more inspiration, you can browse more pieces by Mario Mankey (but the theme of the jam still remains the one image above).
Modifiers
For this edition, we'd like to introduce modifiers!
Modifiers are totally optional (you can submit a game that doesn't even come close to any of them) but if you can try to incorporate one or several of them, we'll take it in account when judging your entry.
Sometimes, modifiers can also be a good starting point if you have too many ideas and don't know which one to pick.
And the modifiers are:
4 colors: the game doesn't use more than 4 colors

Non violent: the game doesn't feature any violent mechanic or violence depiction
It's not a bug, it's a feature: turn (in a creative way) a recurrent bug into a feature
2 buttons: the game must be playable with 2 buttons only
Ratings
Your entries will be judged on the following criteria:
Overall: a general criteria to rate the overall quality of your entry
Innovation: how innovative is your entry? (mechanics-wise, technical-wise, story-wise, ...)
Gameplay: does your game play well? Is the game enjoyable to play? Are the mechanics well introduced and developed?
Theme: does your entry respect the theme? how creatively have you interpreted the chosen theme?
Graphics: how polished, pleasing or good-looking is your game's art?
Audio: how polished, pleasing or good-sounding is your game's audio?
Mood: does your game convey any mood (sad, happy, humorous, epic...)? If so, how well?
Have fun and be creative!