⛄ About the Winter Jam
Budding game developers from the Game Programming, Game Art and Animation, and Game Design and Production departments, will come together to make games around a particular theme. Together, they will experience the joys and pains of working towards a murky and ever-changing goal over the course of the class-week.
This will be the very first iteration of this game jam conducted in an online fashion. This year, both Year 1 and Year 2 students will be submitting their work to this game jam portal.
📢 What's the Theme?
The theme serves as a prompt in hopes of sparking new ideas. Interpret it however you wish: make puns, take it (too) literally, design a mechanic around it or whatever else comes to mind.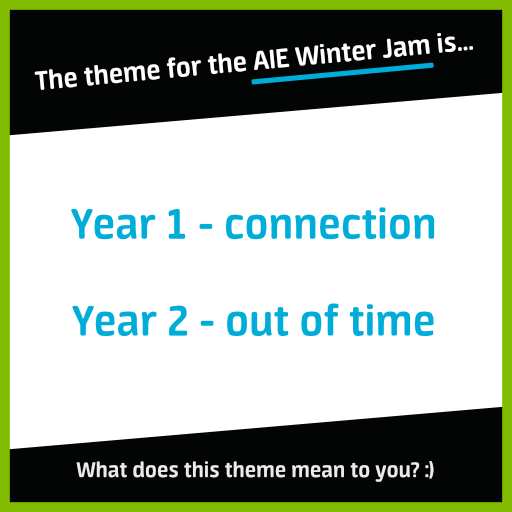 🙌 How do I participate in a game jam (especially online)?
Check out the introduction slides that were presented at the game jam.
(this will be updated after the introduction is delivered)
📕 Rules and Regulations
Please review and follow these rules to help us keep a safe and inviting space for your fellow jammers and students.
There is a limit of two programmers per team, due to their limited numbers.
If asked, please welcome new members to your team and find ways for them to contribute.
Upload and publish your game by the due date expressed by the game jam organizer.
❔ About AIE
AIE trains students for employment and career opportunities in 3D animation, game development and related fields through the provision of world class education as well as acting as a catalyst to build these industries.
AIE is a non-profit educator established in 1996 to grow and support the game industry. Our unique curriculum is offered in the United States and Australia, and provides you with the training needed to join our other graduates as entrepreneurs, leaders, and innovators in the video game and film industries. We were one of the first colleges in the world to offer specialized training for 3D animation and video game development.
For more information on our school and programs, check out our website at aie.edu.