'cause everything is cooler IIIIN SPAAAAAACE!!!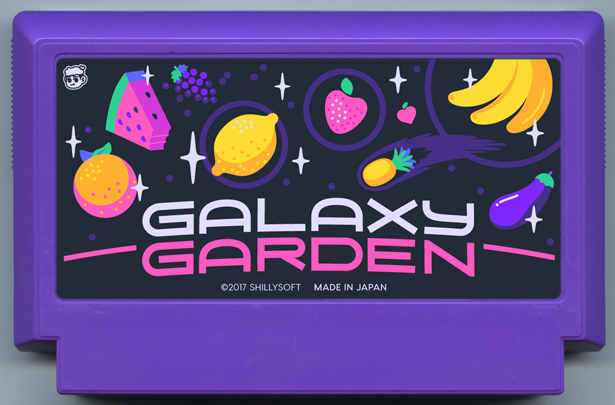 Hey everybody!
Since I'm currently recruiting for a larger 3D first-person stealth game, I figured this was a good way to (a) get my name out there, (b) show I can deliver both as a programmer and designer, and (c) serve as an ad for contract work in case the 3D game doesn't work out. On to the meat of the blog post!
Deciding on a cartridge
As I'm sure some of you have experienced, there is so much creativity and imagination on display in the Famicase exhibit that it's hard to pick one title to make a game about. After thinking about what I could reasonably create fun game mechanics for in the time we have, I narrowed it down to two titles: GEO and Galaxy Garden. I made a point, after describing the basic pitch, to ask my two teammates (@KattStrike and @mjcabbages) which one they liked. Katt said she was ok with whatever, and Mike said he would probably be better at Galaxy Garden. Galaxy Garden it was!
That said, during these conversations I reached out to Emily Haasch (@emhaasch, the designer of the GEO cart) and Michael Shillingberg (@heyshilly, the designer of the Galaxy Garden cart) to see if they had anything more to say about, and I did some thinking about what GEO could be. I've written down my thoughts on that game in a separate post that people can check out and use for this jam if they feel like it.
Design work so far
I have three goals for this project:
Make a game about growing plants from space that is mostly a grow and sell/trade sim, but has occasional action sequences with spaceborne meat monsters.

Create a UI for this game to make it easy to port to mobile.

[GRAVY] Incorporate permaculture concepts into the gameplay, ex. polyculture, "chop n' drop", etc.
When I reached out to @heyshilly about Galaxy Garden, here was his response: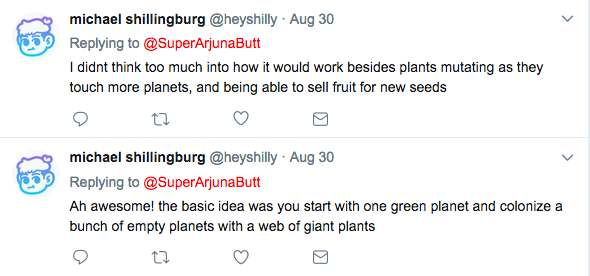 No problem, in fact this is an improvement as I interpreted "farming between worlds" to mean farming on some vague space station. It makes much more sense to farm on a planet, but what should the gameplay look like?
I was thinking about some of the old 80s and 90s space games (ex. Space Rogue (1989). Star Control 2, Solar Winds, the Star Trek TNG games for the Genesis/SNES) that have a UI made to look you're inside a space ship controlling everything from a futuristic panel. Granted, some of that was just there to save on video memory and only have to draw a small part of the screen, but I want to try to do this in a way that won't feel too cramped.
As I stated above, I see the most basic gameplay as a turn-based simulation where you apply items (ex. fertilizer, water, etc.) to plants that produce fruit. You do this from a spaceship that can warp between star systems. Loads and loads of other mechanics can be built up from that, but I want to keep things narrow for the limited time I have. I see three menus in which the gameplay can happen:
Main Menu: This lets you select the different planets in the system your space barn (It's not a space ship! It's a space barn!) is parked in, and yes I did see history of the entire world, I guess. There will be icons in those button areas to the right, but this is the limit of my programmer art.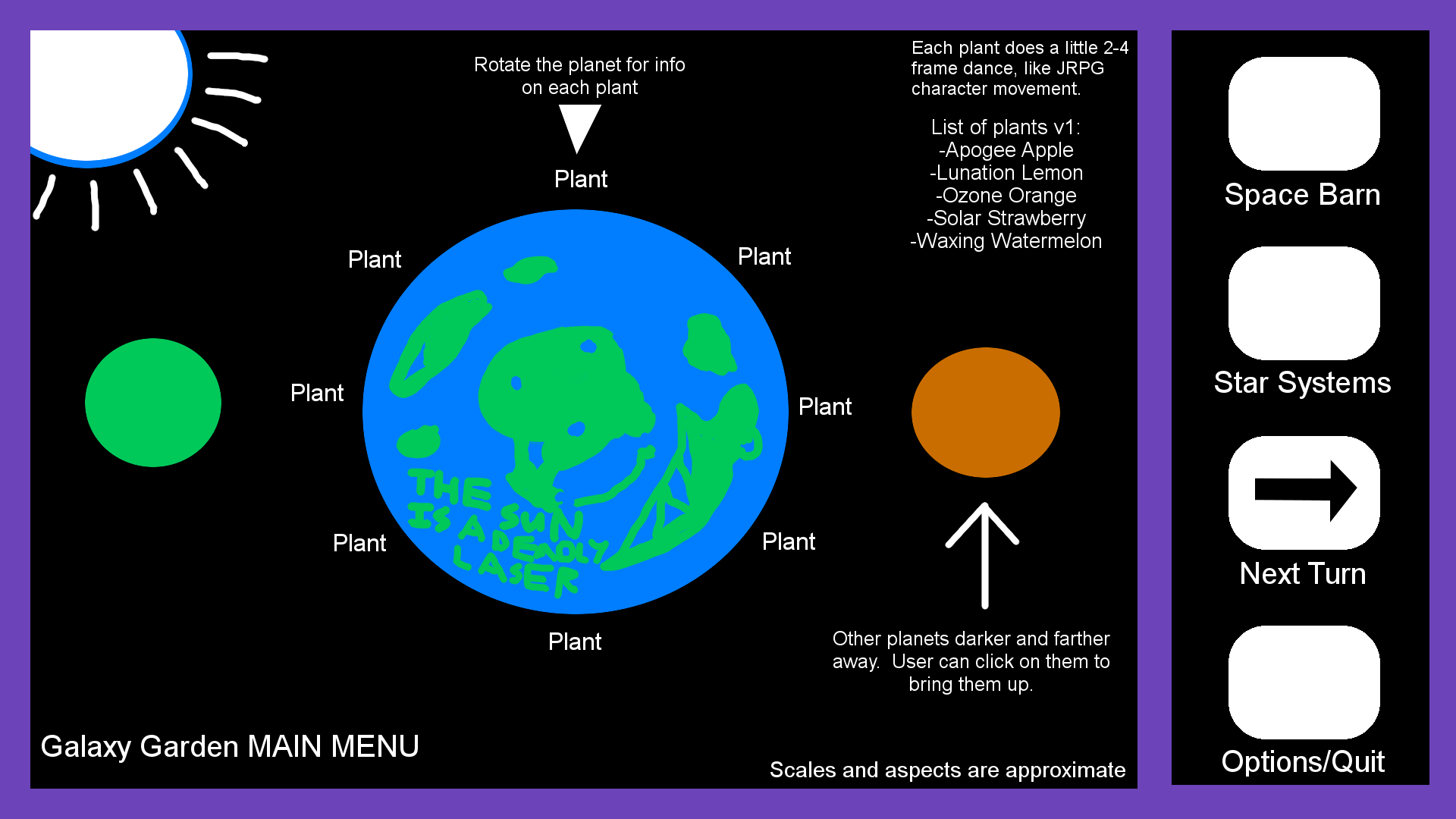 Space Barn: This is your inventory.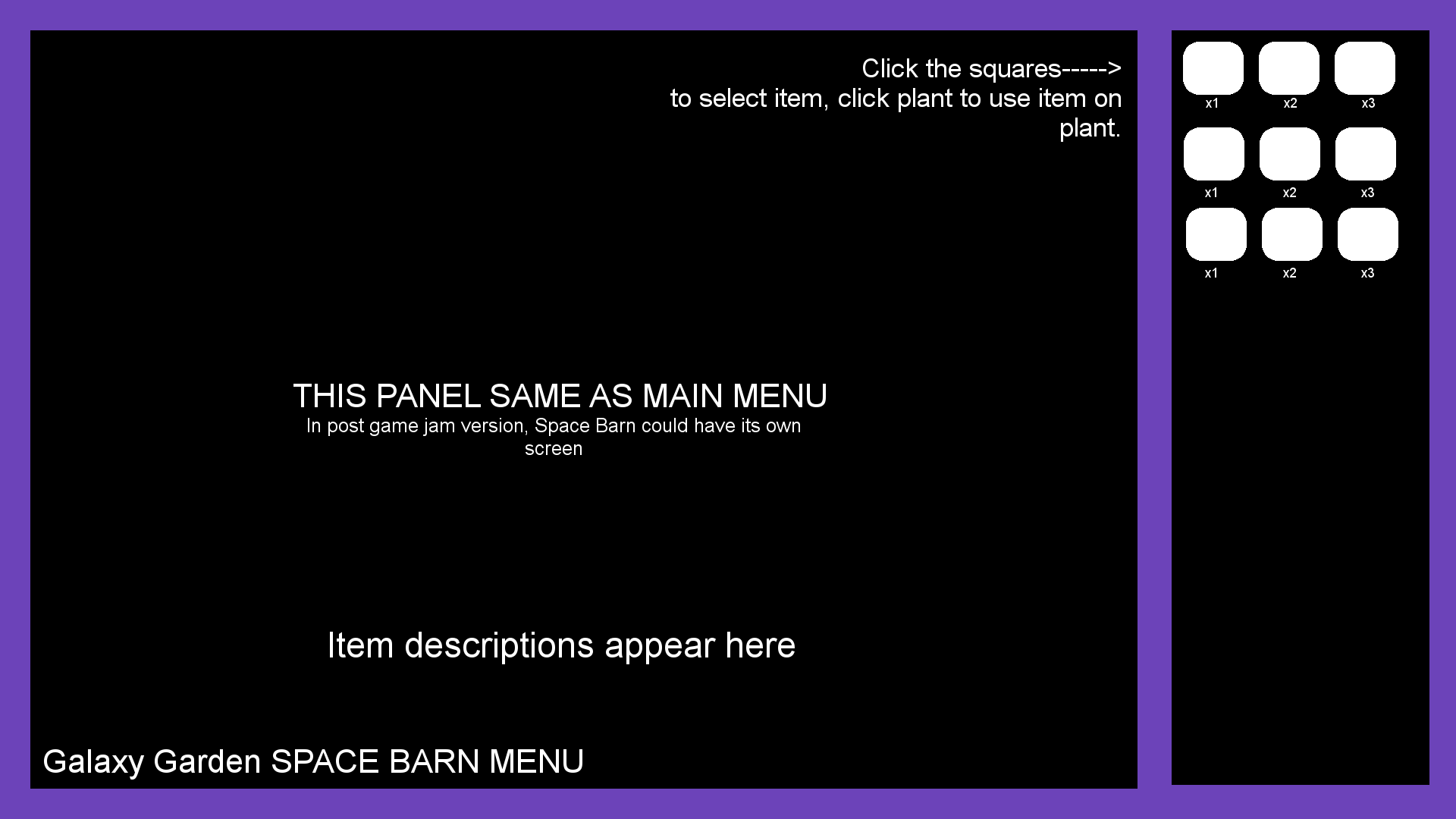 Star System: This is your navigation panel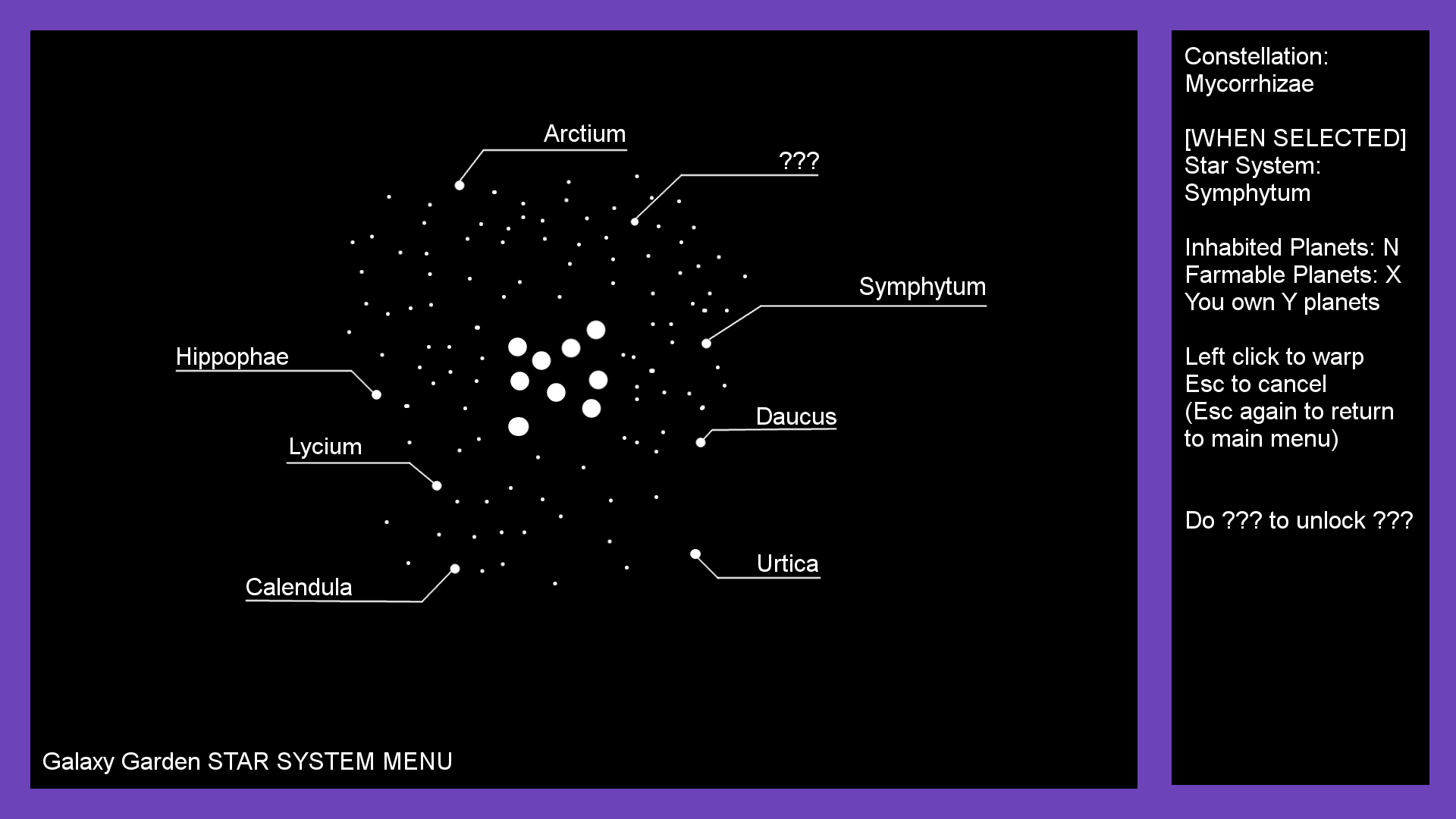 All this design is nice, but how am I gonna program it? Well...
Putting on the programmer hat
Why yes, I did take Software Engineering in college!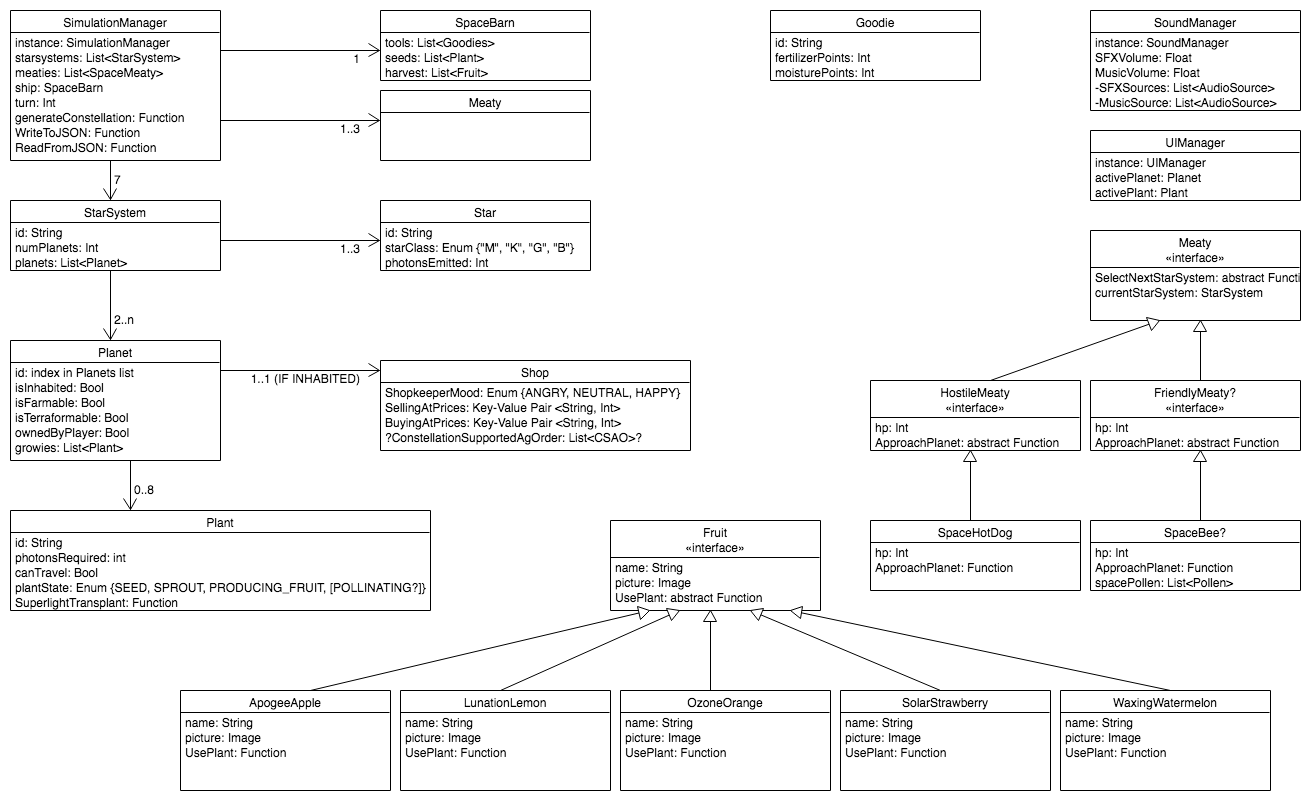 For the non-techies in the audience, this is a Unified Modeling Language (UML) diagram. UML is used by programmers as a clunky and weird way to outline and diagram out their code before writing it all up in their editor.
I would start walking through some of this code, but to be honest I'm getting kind of tired as I write this and I still need to write up the GEO post. I'll likely leave this for another devlog post later.
Btw, I'm using UMLetino (http://www.umlet.com/umletino/) to create these UML diagrams. It's a pretty straightforward diagramming tool if you're into that sort of thing.
Wrapping up
Having shot myself in the foot multiple times from overscoping in the past, here's what I'm aiming for in the time I have:
7 randomly generated star systems. Each one must have at least one inhabited planet and one farmable planet.

5 plant species, each with their own fruit. Time allowing, we'll tweak them so they have their own requirements.

Basic shop mechanics, ability to sell fruit for credits to buy tools/water/fertilizer.

[MAYBE] Combat sequence with a Giant Interstellar Hot Dog.
I would love to be pleasantly surprised and have more time to add more mechanics, polish, etc., but I'm not going there yet.
HUGE shoutout to Katt and Mike for teaming up with me, the Famicase designers, Ludonaut,
and dom for this awesome game jam, and JP LeBreton (@vectorpoem) for RTing the AGBIC Twitter so that I could find out about this jam.
About me
:
I (@SuperArjunaButt) am a pseudonymous game developer that has been programming on and off since I found QBASIC 1.1 on a 486 in 2001. After bouncing around some non-gamedev tech jobs, I came back to game programming in the summer of 2016, and I feel like a teenager again. This is my first game jam since the early 2000s.
I'll let the other team members introduce themselves in their own posts if they want, but on music/sound effects we have Katt Strike (@KattStrike), and for graphics we have Mike (@mjcabbages).