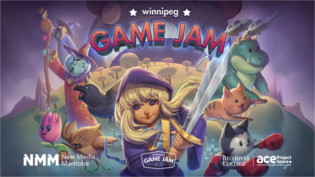 Mark your calendars, from November 1st to 4th it's Peg Jam time!
New Media Manitoba and The Winnipeg Game Collective are happy to announce the latest edition of Peg Jam. Join us for a full weekend of industry insights, game development, and community building.
When:
Thursday, November 1st | 7:00pm - 10:00pm
Friday, November 2nd | 6:00pm - 10:00pm
Saturday, November 3rd | 10:00am - 10:00pm
Sunday, November 4th | 10:00am - 8:00pm
*See full agenda below

Where: RRC ACE Project Space | 321 McDermot Ave (5th Floor)
Cost: Free with Registration
*Drinks and snacks will be provided

Whether you are an experienced developer or just want to try your hand at making games, our friendly and inviting community will let you learn from some of the best game developers in town. Contribute your talents, make art, music or code - Game jams need every skill-set and skill level.
The Jam kicks off on Thursday, with an amazing line up of speakers talking about their development process.
Alec Holowka
Alec is an indie game designer-programmer-composer who was born and raised in Winnipeg. He lives in the Exchange District and makes games with friends on the internet. Back in 2007 he released Aquaria with Derek Yu. (Spelunky) He has also created soundtracks for games like Offspring Fling (by Kyle Pulver) and TowerFall. (by Matt Thorson)


Albertine Watson
Albertine will be speaking on learning Unity and dipping her toes into game development after spending 5 years working on the marketing and PR side of the industry. She'll talk about what kept her from pursuing this dream and what finally helped her immerse herself in this exciting world.

Albertine comes from a digital communications background and has spent the past 5 years doing marketing and PR strategy for games ranging from the tiniest of indies to larger AAA titles. Nowadays, Albertine is helping out at Winnipeg's very own Infinite Ammo Inc. in a more development-focused capacity.
Julian Beutel
Video games are immersive interactive worlds and audio is a big part of selling the experience to the players. How can we add audio that represents the action onscreen, provides feedback to the player, and also expands the universe of the game?

Julian Beutel is a Winnipeg based composer and sound designer. He wrote the music for the animated short An Object At Rest, shortlisted for the 2015 Oscars, as well as Winnipeg games Skyboats, My Magical Friend, and A Quiet Night In the Neighbourhood. He enjoys writing music of all styles, making field recordings, and playing jazz.
Amy Gerardy
Amy will be speaking on creating the perfect conditions for creative thinking and different ways to apply that creativity.

Amy Gerardy is an illustrator and game developer who works as a freelance artist. She works on a variety of things, from prints to art assets for games. She is influenced by nature, cute things, and magic. She frequently forgets her tea is still steeping.


Sara Wilde
Sara will discuss building depth into your game by using artists tricks and techniques to enhance its story and design

Sara Wilde is a 3D artist, coffee drinker, travel enthusiast and cat lover. She has been living and working in the Winnipeg games industry for 3 years and continues to hone her craft while taking part in kick-ass projects with her friends and local devs. Sara can be found under the handle @SaraWildeArt on most platforms.
Brian McKinnon
Procedural Content Generation is a powerful tool to quickly build worlds. Used carefully, you can rapidly create worlds that are unique, interesting and fun to play, or add layers onto already hand-crafted worlds. Brian will give a tutorial on some common PCG techniques applied in a 2D game context.

Brian Mckinnon is Technical Lead at Ubisoft Winnipeg, responsible for creating technology and pipeline tools to support AAA game productions. Brian has worked on some of Ubisoft's most popular brands, including Assassin's Creed, Far Cry, Watch_Dogs, and For Honor. Born and raised in Manitoba, Brian received his Masters in Computer Science from the University of Manitoba.
Kent Wilson
Building a 3D game world can be extremely time-consuming. While procedural techniques can make that much faster, you may have to sacrifice creative control to use it. Kent will provide techniques to optimize level art and asset creation workflows using Lego blocks and other time-savers that still allow you to realize your artistic vision.

Kent started in the games industry 20 years ago in Vancouver as a Level Artist, joined Ubisoft Toronto 8 years ago, and is now Lead Artist at Ubisoft Winnipeg. Kent has worked on some of Ubisoft's biggest games including Splinter Cell Blacklist, Starlink, Assassin's Creed Unity, Watch Dogs 2, and Far Cry 5. Kent is an environment and lighting artist, specialized in level and cinematic lighting.
On Friday night the jamming will commence.

Jam Outline:
Thursday, November 1st
7:00pm - 10pm | Speakers
Friday, November 2nd
6:00pm - 6:10pm | Orientation / Opening Remarks
6:10pm - 7:10pm | Theme announcement
7:10pm - 9:50pm | Jam Time
9:50pm - 10:00pm | Closing
Saturday, November 3rd
10:00am - 10:30 | Orientation
10:30am - 9:50pm | Jam Time
9:50pm - 10:00pm | Closing
Sunday, November 4th
10:00am - 10:30am | Orientation
10:30am - 6:00pm | Jam Time
6:00pm - 7:00pm | Presentations
7:00pm - 7:30pm | Closing Remarks
7:30pm - 8:00pm | Closing
Special thanks to our event partner -