This bundle ended
2019-12-06 04:00:00
.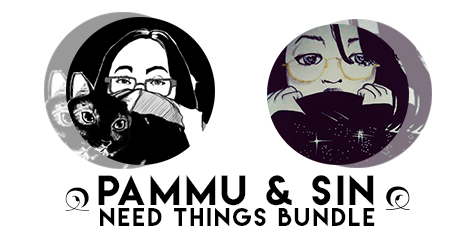 Pammu has to kick up efforts to raise money for Toronto 2020, Sin needs funds for rent, meds, and other Life things. Because they have a lot of collaborations anyway, they both figured: why the hell not?
This bundle contains all of our collaborations, and all of our micro-RPGs! Some of the more notable entries are:
+ The Planted Verse, from Sin: Succulent Sorcerers, Petal Paladins, Bonsai Brawlers, and Mossy Mechanics are quirky, light and fun games that let you play sentient plants! Play each one alone, or mix and match 'em as you please.

+ Across This Wasteland With You, from Pammu & Sin: this map-making game is all about exploring a desolate wasteland, where the landscape reflects memories heavy and beautiful. Written as our metaphor for queer love and its struggles.

+ Purplest Prose, from Pammu: come together with a bunch of friends, dig deep into the recesses of your trashy soul, and prepare to compete to become the best romance novel writers evar in a Cards Against Humanity-esque micro-RPG all about writing trashy romance!
For those of you who went to BBC 2019 but weren't able to purchase physical copies: all of these games were being showcased by Pammu. Please purchase this bundle and help us tuck some $$$ away for a rainy day!