Psytronik Software, RGCD, and Thalamus Digital Publishing have joined forces to bring you the ultimate Christmas bundle: three classic sci-fi action games for the Commodore 64 for just $9.99*.
ORGANISM (PSYTRONIK)
Organism is an immersive sci-fi arcade action adventure game from Trevor Storey and Achim Volkers, with music by Saul Cross. Explore the decks of the doomed transport ship Heracles and try to find a means of escape by finding pass-keys, data disks and terminals that will give you access to other areas on the ship. Be wary of crew-members that may have been infected by something that is lurking on the ship... something that you must evade or destroy at all costs!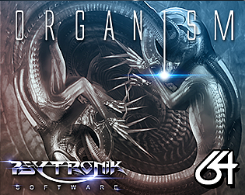 Key Features:
Detailed hi-res graphics
Huge multi-deck ship to explore
Atmospheric music
Immersive movie-style story
Intro & end sequences
Terminal hacking sub-game
SD2IEC compatible
PAL and NTSC compatible
MOONSPIRE (RGCD)

Moonspire is a sprawling flip-screen exploratory sci-fi shmup developed by Dušan Milivojevic with audio by Ari "agemixer" Yliaho. After the Draxx onslaught on Arcturus 7, the remaining colonists began to strategize a retaliation, but it was too late: the Draxx had retreated to the far side of the planet's only moon, taking with them the control orbs from the thermal-boosters and reverting the planet back to an inhabitable and desolate ice world. Your mission is simple: infiltrate the Draxx Moonspire, cause as much devastation as possible and reclaim the stolen orbs. YOU are mankind's only hope!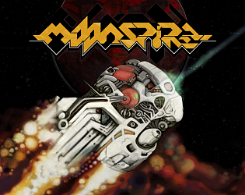 Key Features:
A classic old-school mix of exploratory and shmup arcade action
Futuristic low-res 16-colour graphics
An awesome SID-rocking acid soundtrack
Six levels comprised of 264 screens
Three weapon types with separate ammo counters
Multiple difficulty levels
Keyboard-only and joystick control systems
Full PAL & NTSC compatibility
HUNTER'S MOON REMASTERED (THALAMUS)
Hunter's Moon Remastered is a fully remastered and updated version of the seminal C64 shoot 'em up, created by Martin Walker with music by Matt Gray. After flying your trusty ship Hunter too close to a black hole, you find yourself lost in space on the wrong side of the galaxy, surrounded by sprawling, hive-like cities. At the core of each city lie mysterious alien Starcells – these contain valuable navigational data and must be collected to plot a course back home. Do you have the dexterity, precision timing and psychopathic blasting skills to find your way home to Hunter's Moon...?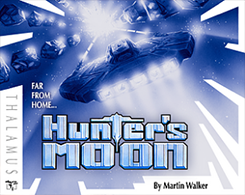 Key Features:
Over 180 levels spread across 21 Star Systems
New level types including Jumpgates and Blackouts
Trainer Version designed for novice players
All-new Random Mode to test seasoned veterans
Save your game progress direct to the cartridge
Stunning new intro & outro sequences
New in-game music and enhanced parallax starfield
Built-in Level Editor to craft your own cunning creations
Multi-language support for French, German, Italian, and Spanish
Bonus: Original 1987 version also included on the cartridge
Full PAL & NTSC compatibility (Remastered Version only)
ORGANISM ©2018 Psytronik Software
MOONSPIRE ©2017 RGCD
HUNTER'S MOON REMASTERED ©2018 Thalamus Digital Publishing
http://www.thalamusdigital.co.uk

https://thalamusdigital.itch.io
* USD. Additional fees & taxes may apply.