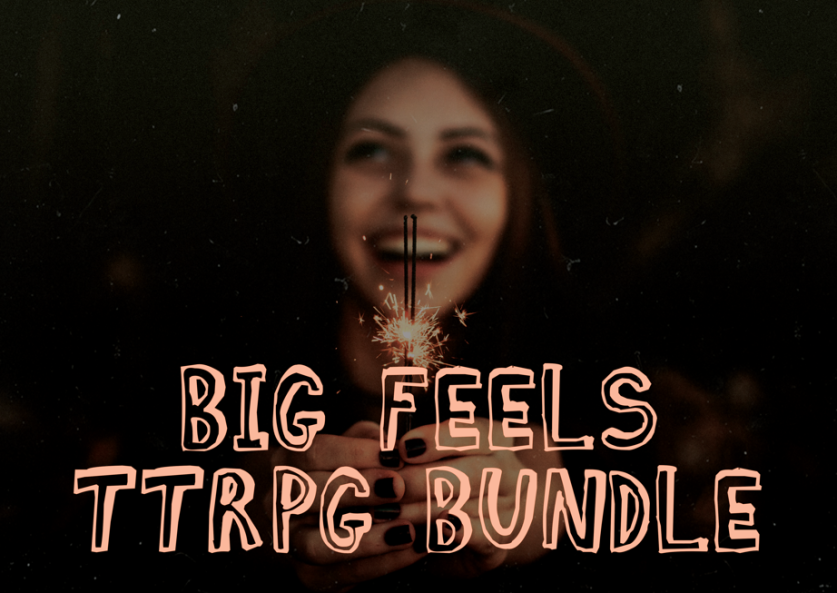 People play TTRPGs for a lot of reasons. Sometimes it's for the feeling of success. Sometimes it's for the feeling of closeness to a character. Sometimes it's for the feeling of introspection, or tragedy, or anger, or justice.
But almost always, it's for a feeling.
Here in this bundle, you'll find 65 TTRPGs that inspire feelings. Romance, compassion, consideration, righteousness, apprehension, peace, and more.
Self-reflect, date a raccoon, run from a vampire, rebuild a beehive, pine for angels and demons, and dance all night.
--
All purchases of this bundle are split evenly between contributors and help to fund the creation of new games and material.
The bundle graphic uses art by Allef Vinicius from Unsplash, permitted for unattributed commercial use under the terms of the Unsplash license. The graphic was created by Armanda Haller.
--
Also, we weren't able to fit these games in the bundle due to space limitations, but they're rad and you should check them out too:
A Modern Prometheus: https://mqsalmon.itch.io/prometheus
Unstuck In Time: https://theinstagrahame.itch.io/unstuck-in-time
You Are Going To Die In Space: https://v-for-valensa.itch.io/you-are-going-to-die-in-space
Bro Is It Gay To GATTAI?!: https://v-for-valensa.itch.io/bro-is-it-gay-to-gattai
Rivals: An Endless Duel: https://v-for-valensa.itch.io/rivals-an-endless-duel

A Visit To San Sibilia: https://jimmyshelter.itch.io/a-visit-to-san-sibilia
Breakup On Re-Entry: https://valistarri.itch.io/lonelyghost
OKcryptid: https://tadhgthebard.itch.io/okcryptid