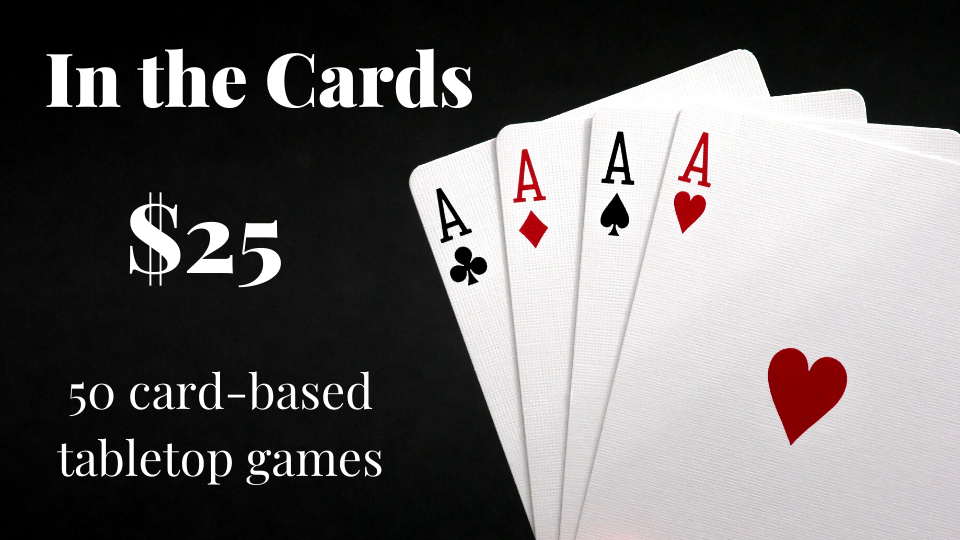 Everyone knows dice. Roundish. Numerical. They go clickety-clack.
But in our hurry to hoard the number rocks, have we perhaps been neglecting something? Have we been overlooking...cards?
Here in this bundle, you'll find 50 card-based TTRPGs. And there's every possible genre here, from high fantasy to murder mystery to slasher horror to post-apocalyptic exploration.
Explore the sea, survive the winter, pilot a giant robot, research magic, build a dungeon, or date the mothman with a handful of playing cards.
(Also a bunch of these games use dice too, so your polyhedrons won't be left out.)
--
All purchases of this bundle are split evenly between contributors and help to fund the creation of new games and material.
The bundle graphic uses art by Klim Musalimov from Unsplash, permitted for unattributed commercial use under the terms of the Unsplash license. The graphic was created by Eliot Silvarian.
--
Also, we weren't able to fit these games in the bundle due to space limitations, but they're rad and you should check them out too:
https://deusexminima.itch.io/you-cannot-kill-me-in-a-way-that-matters

https://hessan-yongdi.itch.io/the-land-and-the-people

https://luckynewtgames.itch.io/wildfire

https://luckynewtgames.itch.io/mission-bathroom-run

https://luckynewtgames.itch.io/mission-present-pursuit

--
Edit: We flew through our first goal on day one. I have now updated the goal to 1k.
2nd Edit: We flew through the second goal on day 2. You all rock. I have now updated the goal to 2k.
3rd Edit: We've hit our third goal! Everyone who contributes a game to the bundle receives an equal share of the proceeds, so every sale helps to support 50 different tabletop game designers. Thank you everyone for your support so far!
4th Edit: Fourth goal! This is a lot of goals!
5th Edit: Five goals somehow?!
6th Edit: Six goals! Thank you for your ongoing support! We're in the final stretch!